The Old Main Post Office: A Historic Landmark Gets a High-Tech Facelift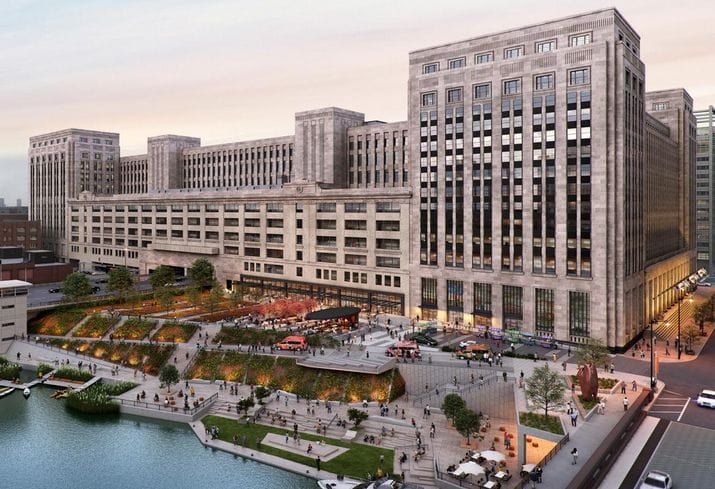 Almost 100 years after it was first constructed — and 20 years after the U.S. Postal Service suspended its operations there — Chicago's Old Main Post Office is nearly ready to welcome its first office tenants.
The iconic building spans two full city blocks and an interstate highway and is the subject of an $800M renovation effort from 601W, a New York-based development firm. With floor plates 10 times larger than the bulk of Chicago's downtown office buildings and structures that date as far back as 1921, the Old Post Office is set to capitalize on a growing demand for airy office space with an aura of history.
"As an offering in the Chicago market, it's pretty incredible," said Andy Halik, a senior project manager at Skender, a Chicago-based construction, design and advanced manufacturing firm. "With that volume of space, the opportunity is immense."
Modern office tenants are embracing spaces with a historic patina and exposed structures, but they still demand modern amenities, including gyms, food and beverage, green space and high-speed internet. Chicago has become a crucible for this kind of construction — it boasts a family of mega-buildings, including the Old Post Office, the Merchandise Mart, the Macy's building at 111 North State St., 600 West Chicago Ave. and 900 North Kingsbury St.
For Skender and other construction companies involved in the renovations, the Old Post Office has presented a thicket of challenges due to its former state of disrepair, its size and the preservation laws that protect its historic floors, walls and beams. However, it has also given them a massive, three-dimensional canvas where they can explore innovative design and construction ideas to create one-of-a-kind office spaces.
The Post Office landed its first tenant, Walgreens, in June 2018. The pharmacy chain chose Skender to represent its interests in the building. A handful of other tenants have inked leases, including advertising agency AbelsonTaylor and the Ferrara Candy Co. 
The building is actually three buildings in one. The east building was constructed in 1921 with floor plates around 37K SF, not much bigger than the average office building in Chicago today. By the 1930s, Chicago had become the mail-sorting capital of the United States, thanks to Montgomery Ward and Sears, Roebuck & Co., two mail-order department stores based in the city that in their heyday accounted for millions of pieces of mail every week.
All that demand necessitated a major expansion, so the city built the nine-story north and south buildings, which featured floor-to-floor heights as tall as 19 feet. These additions were then connected to the existing east building, which was only six stories tall, with 16-foot ceilings.
Those mismatched floor heights have created numerous logistical hurdles for Skender, but Halik said they have also opened up functional benefits for the building's occupants.
"Tenants in the building may want an assembly space to gather all of their employees at once," Halik said. "The location in between two buildings can provide that opportunity through stairs, stadium-style seating or balconies."
The ability to house an entire company headquarters on a single contiguous floor is something Halik said will appeal to companies that prize collaboration. He said there is a particular energy to having all of a company's employees housed on a single floor.
The lofty ceilings also present numerous design possibilities as tenants decide how to partition their space.
"They can run walls all the way up to the deck, or leave them at a lower datum line," Halik said. "There's so much you can do with the height."
Dealing with the endless possibilities of space is nothing new for Skender. In 2014, the company oversaw the construction of Motorola's headquarters in the historic Merchandise Mart, where the telecommunications giant once occupied 600K SF between the four top floors and the roof.
Halik said Motorola's offices set off a wave of projects throughout Chicago that married history and modern design, transforming massive floor plates into top-tier office spaces. Skender has been at the center of the trend, building out flagship offices for ConAgra Brands in the Merchandise Mart, Echo Global Logistics at 600 West Chicago Ave. and, most recently, Google, whose 357K SF headquarters in a former cold-storage facility on North Morgan Street helped turn Fulton Market into the booming office center it is today.
But along with the possibilities, the Skender team also faces a host of constraints, many in the form of historic preservation rules. The rules are intricate and vary wildly across the different parts of the building.
"Depending on the condition, what may be required in the north building might not be allowable at all in the south building," Halik said. "One of the biggest challenges for tenants is understanding what the historic opportunities and limitations are and appreciating that they vary building by building."
Much of Skender's job in representing tenants' interests in the building is anticipating the financial and design implications of the historic requirements, and applying resources thoughtfully. To that end, the company has invested in an extensive pre-construction process to avoid surprises during construction.
To Halik, though, all those logistical challenges sound less like constraints and more like a fascinating puzzle.
"Being the first has been incredibly powerful for us and our clients," Halik said. "As the first, not only do you gain a complete understanding of what is possible within the building, but you develop a deeper understanding of why each opportunity is possible. Rather than being given a very clean list of requirements from someone else, you were the one to figure it all out."
—
This feature was produced in collaboration between Bisnow and Skender.