Stepping It Up: Erie HealthReach Waukegan Health Center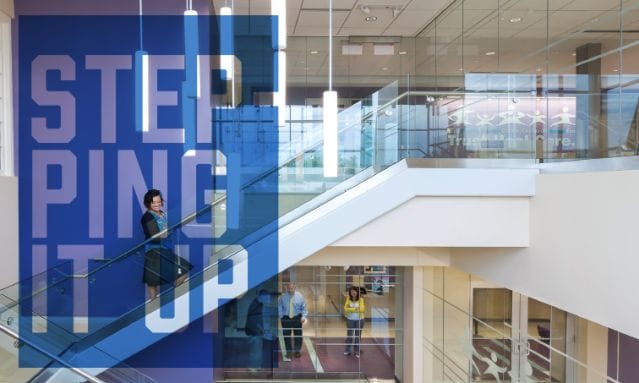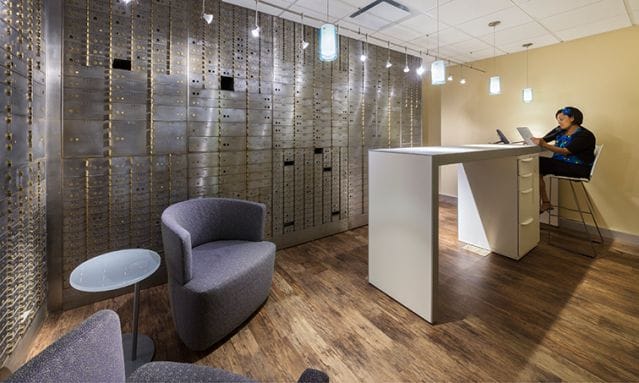 Elevation 006
After an extensive search, Erie Family Health Center settled on the perfect building for a vibrant new community health center in Waukegan: A 1950s-era bank. Completely transforming a former financial institution into a quality medical and dental care facility that would serve 10,000 Lake County residents would be challenging, but the two-story masonry building was right for so many reasons.
"Our vision was to meet community health needs as well as plan for future growth," said Amy Valukas, Erie's vice president of planning and programs. "We needed to be accessible to public transportation, but we also wanted to be on a main thoroughfare in a place that was known, visible, comfortable and safe to the community."
"One of the goals was redefining a strong iconic image—the bank—by converting it into a health care facility that would bring Erie's brand to life," said architect Casey Frankiewicz, director of health care at Legat Architects in Waukegan.
The new 25,000-square-foot Erie HealthReach Waukegan Health Center would greet its first patients in just 22 weeks. Examination rooms, nurse stations, laboratory, dental and vision suite, urgent care area and community education room with demonstration kitchen would reside on the first and second floors. The lower level would offer a lounge and fitness center for medical providers. The building would also gain new MEP, elevator and fire protection systems.
But the building had been expanded multiple times, and no meaningful documents existed. Both the schedule and budget were tight. There was no time or money for mistakes, even when there were questions about what was really behind the walls.
"We gutted the whole interior down to the exterior walls and rebuilt the inside, so there was no time for re-work or confusion. We had to make decisions, over-communicate and hold everyone accountable," said Skender senior project manager Thomas Schlueter.
The team began with a major project: The removal of two large support columns on the second floor to provide more openness and longer sight lines. To compensate, the foundation had to be reinforced to support a huge galvanized beam placed on the roof to carry the new load.
"We were working with a building that had a different function and making an open floor plan out of something that previously had a lot of walls required adding tons of structural steel over the roof. Because of time constraints, everyone had to work together," said Kazem Nemazee, project manager at David Architectural Metals in Chicago.
Erie also wanted to retain some of the design elements of the former bank. The most obvious was the dramatic spiral staircase connecting the first and second floors. But the staircase, which needed renovation, didn't meet current building codes. Even if it did, the triangular-shaped treads were unsafe for those with mobility challenges.
"We knew it would cost more to try to bring it up to code than to put in a new stair that met code, so we proposed building an entirely new monumental stair after construction began. We knew a new stair would be safer and its modern look would add more value in the long-term," said Schlueter.
But time was ticking, so the team used a design-assist approach to design and build the stair. This accelerated the process by reducing drawing and approval times. "Legat sketched the concept; then we worked with David Architectural to produce the drawings and help design to a target cost. The traditional approach of drawing, pricing, shop drawings, approvals and fabricating would have delayed the schedule for weeks," said Schlueter.
The result was a new glass and stainless steel staircase extended to the lower level. Also, the front façade was torn out to insert a two-story extensive north-facing glass box that projected out of the building. The glass serves several purposes: It adds an inviting face to the façade and showcases the staircase from outside and inside. It also drenches all three levels with massive amounts of natural light. A small seating area adjacent to the stairs allows patients to wait and watch for their transportation.
The bank's two vaults, however, were incorporated into the overall design. The cash vault on the first floor was turned into a touch-down area for visiting professionals. The safety deposit vault on the lower level became a cozy lounge with a decorated metal wall. Vault doors were removed for safety's sake and bolted to nearby walls for ornamentation.
"Removing the vaults would have been difficult, so we celebrated them," said Valukas. "They are really beautiful quiet spaces where our providers can be productive, and they are a reminder of the history of what was there before."
While scope changes often play a role in adaptive re-use projects, the team relied on Lean Construction to manage scope changes, hold people accountable and ultimately fast-track the schedule. Trade partners participated in pull planning sessions, used the structural steel for the column removal and the monumental stair as critical paths, and planned backwards to capture every task on paper. The entire building was broken down into areas so the team could prioritize and build a production system. The lookahead schedule tracked all daily tasks and projected constraints that could halt workflow.
Although the schedule allowed for 22 weeks of construction, Erie HealthReach Waukegan Health Center was completed two weeks ahead of schedule.
"They have a great process of running jobs where they hold everyone accountable," said Frankiewicz. "This job needed that kind of leadership on the construction end to meet the goal, and they provided it."
"Skender is fantastic," said Valukas. "There were multiple times that they made suggestions or value-added decisions that ended up having no material change in the outcome of the design but definitely saved us dollars. I don't think any other general contractor out there could do what they did."