Skender, Sterling Bay, and Lamar Johnson Collaborative Celebrate the Unveiling of Aspire Monument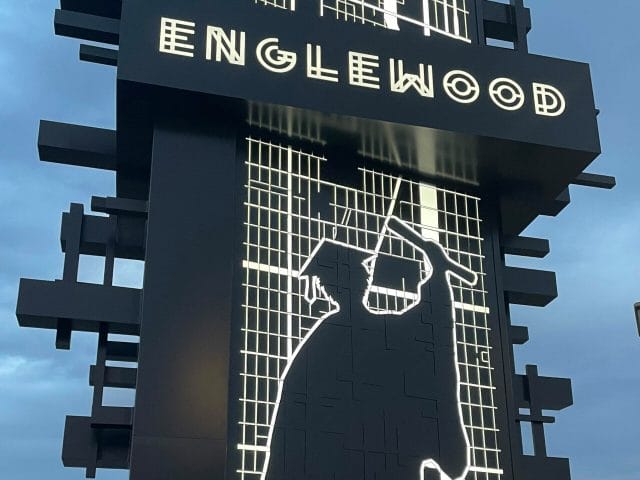 Skender, alongside Chicago real estate development firm Sterling Bay, and design firm Lamar Johnson Collaborative (LJC), today unveiled ASPIRE, a new community monument located in Chicago's historic Englewood neighborhood at 6701 S Wentworth Avenue. This remarkable installation, standing 25 feet tall and crafted by local art activist Maxwell Emcays, commemorates the legacy of the site, formerly home to Kennedy-King College. The artwork celebrates those who foster the academic aspirations of local students, and the promise of its future generations to achieve their highest potential.
Commissioned by Sterling Bay with construction and architectural design support from Skender and LJC, ASPIRE stands as a symbol of hope, inspiration, and achievement, capturing the indomitable spirit of all Englewood students who dream big. Environmental Systems Design (ESD) provided electrical and structural engineering support.
"ASPIRE was curated to celebrate the virtuosity of Englewood's scholars and to highlight the transformative impact that education has on shaping brilliant futures," said Keiana Barrett, Chief Diversity & Engagement Officer at Sterling Bay and longtime Englewood resident.
"With this monument, and the community-forward development plans we will soon announce for this site, we hope to strengthen the legacy of enterprise and collective growth in Englewood, while providing inspiration and inclusion to its residents for years to come."
For over 18 months, the three firms and Emcays conducted several in-person meetings with neighborhood stakeholders to solicit feedback on various themes to inspire the artwork. Over the course of these discussions, it was agreed that capturing the spirit of achievement and ambition to foster pride and unity amongst local youth would be a meaningful message to memorialize. "My passion and hope for Englewood inspired the creation of this piece," said Emcays. "It is a visual reference for the limitless potential of the community."
Emcays was introduced to Sterling Bay by Andre and Francis Guichard, owners of the renowned Gallery Guichard in Bronzeville. "The Englewood monument by Maxwell Emcays is a powerful symbol that unites the community and inspires individuals to embrace shared values, cultural diversity, and a sense of historical continuity," said Andre and Francis Guichard. "It can serve as a catalyst for positive change, fostering unity, understanding, and personal growth among community members and visitors alike."
The base of the installation features an embedded time capsule, which houses artifacts chosen by Englewood community organizations, illustrating the character of the neighborhood. "The 6th Ward is the ward of innovation, equity, and advocacy," said Alderman William E. Hall. "This statue is a reminder of where we came from, and a beacon of hope for the future."
The collaboration between Sterling Bay, Skender, LJC, and Maxwell Emcays exemplifies the power of corporate-community partnerships in supporting local arts and culture. "Englewood's schools and its dedicated teachers have educated incredibly talented students over many generations, leaving an indelible mark on the lives of countless young people born and raised in this neighborhood," said Alex Panici, Vice President at Skender. "We hope that by memorializing the achievements of students of the past, future generations are reminded of what's possible with the power of education."
Lamar Johnson, Founder & Executive Chairman of LJC, adds, "This memorial expresses the vitality, energy, and aspirations of the Englewood community. We are incredibly proud to be a part of this creative team and see this memorial shine day and night."