Skender Starts 225,000-SF Restack Project for HERE Technologies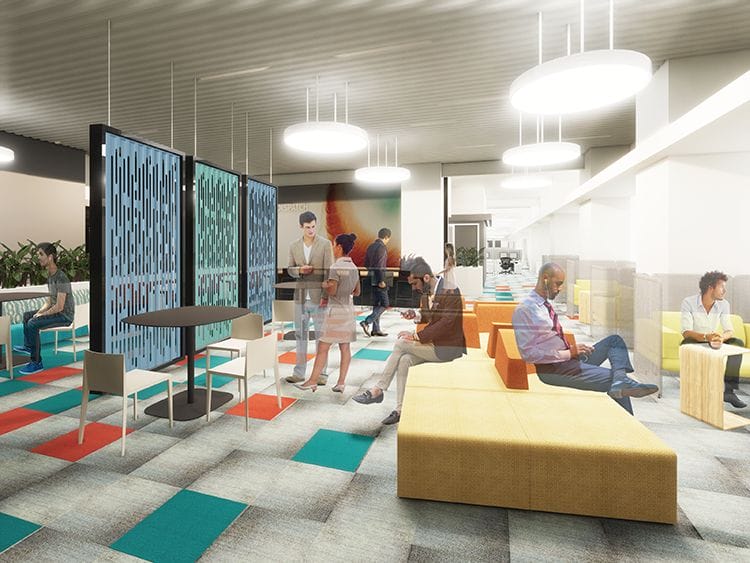 Skender Construction recently started interior construction of the 225,000-square-foot office space for HERE Technologies, the leading location intelligence and open location platform company, at 425 West Randolph Street.
Throughout eight floors of the Boeing Building, the HERE Chicago office is being transformed into a contemporary environment that reflects the company's vision, brand and history of innovation. Scheduled to be completed by late Summer 2018, HERE Chicago will have space for more than 1,400 employees in an open-floorplan seating arrangement that will facilitate better and faster collaboration. Employees will have a variety of meeting rooms that accommodate anywhere from 2 to 200 people, immersive telepresence capabilities for teamwork with peers and customers across the globe, several dedicated "wellness" and "mothers'" rooms, immersion/quiet workspaces, large and small café areas, and a game room. Local artists will be commissioned for several interior murals and significant enhancements will be made towards green initiatives and ergonomics.
HERE Technologies is backed by Audi, BMW, Daimler, Intel, Pioneer, Bosch and Continental. The company's location data and services are extensively used across industries, from automotive to the Internet of Things (IoT). When work is completed, the new-look office space is expected to serve as a showcase for the company's smart office and location tracking technology.
"At HERE Chicago, more than 1,100 employees are working toward our vision of the future, where an Autonomous World benefits everyone," said Angel Mendez, Chief Operating Officer of HERE Technologies. "We're proud to be a longstanding member of the city's tech community where our team of professionals – including hundreds of passionate engineers and product managers leveraging agile processes – help to deliver software, products and services that enable everyone to harness the power of location. This workspace transformation strengthens our approach, opens up new lines of communication, and makes room for many new employees we expect to join us in 2018."
Skender will coordinate utility shutdowns and all construction logistics to minimize the impact on ongoing building operations. Serving as general contractor, Skender is working in collaboration with Gensler, JLL and ESD Global to complete the project by September 2018.