Skender Construction, Eastlake Studio, JLL complete Cision's new global headquarters in Chicago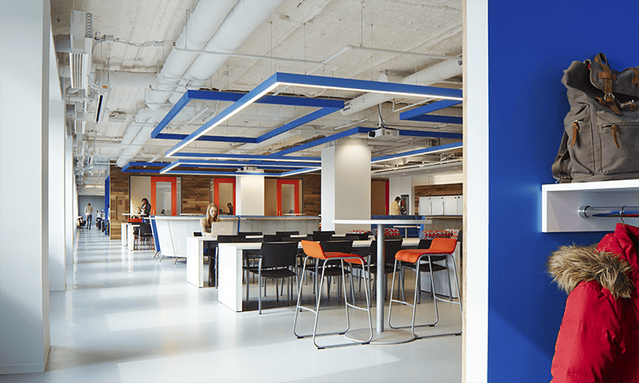 Construction is complete on Cision's new 50,000-square-foot global headquarters at One Prudential Plaza in Chicago, Illinois. The buildout was completed by general contractor Skender Construction, architect Eastlake Studio and project manager JLL.
Cision and similar public relations software firm Vocus merged in 2014 and operate under the Cision banner. The new Cision, boasting 1,500 employees and revenues of $315 million worldwide, relocated their combined global headquarters to Chicago. Prior to the merger, Cision was based in Stockholm, Sweden and Vocus in Beltsville, Maryland and. The new headquarters houses more than 300 Chicago-based employees, including the executive leadership team, and leaves room for growth to 400.
Cision's Swedish roots influenced the space's clean, open design. Reclaimed barn wood accents the elevator lobby, reception area and walls throughout. Movable partitions and a central kitchen/town hall space keep the office inviting and versatile. Open ceilings, shared work stations, collaborative hubs and glass-doored conference rooms augment the firm's culture of open communication, innovation and story-telling.