Skender Construction Completes Vibrant New Home for Enova International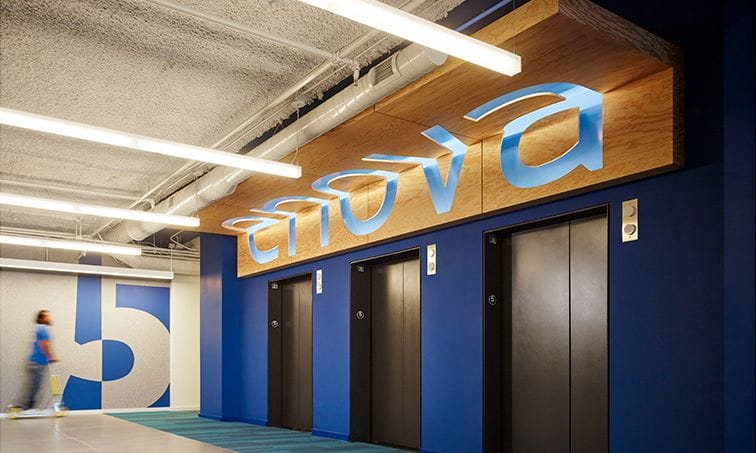 Skender Construction has completed construction of the 165,000 square foot office relocation for Enova International, a global technology and analytics-driven online lender. The new space, at 175 West Jackson Boulevard in Downtown Chicago, utilizes open space and an efficient layout to foster collaboration and provide room for future growth.
The bright, energetic space incorporates bold colors, open ceilings, exposed plywood and retro-modern lighting and furniture throughout. Large graffiti murals splash across several raw wood internal walls. The murals, commissioned by Enova, were created by School of the Art Institute of Chicago student Zachary MacTavish and teacher Miguel Aguilar. Special design and engineering considerations were required to accommodate a 24/7 call center that occupies one floor of the new space, including 24/7 heating and cooling, K-13 ceiling insulation treatment for noise abatement and durable design and materials to withstand constant use.
The new office, which opened in June 2015, spans 3 floors and incorporates open and private offices, cafes, multi-function rooms, gathering spaces and a game room. It is home to Enova's more than 860 Downtown Chicago employees, with room to accommodate the company's rapid growth.
"The space Skender constructed will enable our company to continue to attract the top-notch tech and analytics talent that drives our business," said David Fisher, CEO. "It's been great to have such a vibrant space in downtown Chicago that fits our culture and way of working."
CBRE was the owner's representative for this project, Partners by Design provided the architecture and design services and ESD provided the mechanical, electrical and plumbing engineer services.