Skender Construction and Woodlawn Community Celebrate Groundbreaking of Woodlawn Station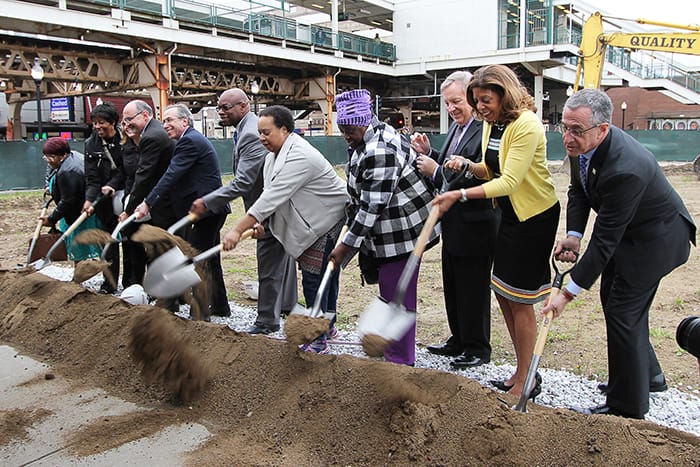 Skender Construction and the Woodlawn community, along with state and local politicians, including U.S. Senator Dick Durbin, celebrated the groundbreaking of Woodlawn Station, a 95,000-square-foot transit-oriented development in Chicago's Woodlawn neighborhood. The development, located just under the Cottage Grove Green Line CTA terminus station, will feature a main building that contains 55 units and two additional buildings containing 12 and 3 units respectively.
Woodlawn Station marks the Preservation of Affordable Housing's (POAH) fifth new construction project along Cottage Grove Avenue.
"Residents of Woodlawn Station will soon be able to leave their new apartment and walk steps to high quality restaurants and cafés, shops and services located on the ground floor. They'll be able to walk steps to the Green Line to get downtown or take the 63 bus to the new Obama Library," said Aaron Gornstein, POAH President and CEO. "At POAH, we believe in the power of mixed-income communities. This project will provide replacement housing for 35 former Grove Parc Plaza residents, another 20 units for middle-income residents and 15 units of market rate housing."
Woodlawn Station strives to not only improve the lives of its residents, but also to support local entrepreneurs who will be moving into its ground-level retail space. These businesses will be offered lower rents and generous tenant improvement packages. One such business is locally renowned Ain't She Sweet Café, the first retail tenant announced for the building.
Skender will serve as general contractor for the Nia Architects-designed apartment community funded by POAH, the Illinois Housing Development Authority (IHDA), U.S. Department of Housing and Urban Development, and other lending partners. Construction is expected to take 12 months and construction materials will include steel and precast on the 55-unit building, and CMU and wood framing on the 12- and 3-unit buildings.
"Chicago has a great need for affordable housing and we are honored to play a small part in bridging that gap. We take pride in being able to make a meaningful contribution towards an exciting future for this culturally rich neighborhood," said Joseph Pecoraro, Project Executive at Skender.