Skender Completes Office Interior Construction for Corix Group of Companies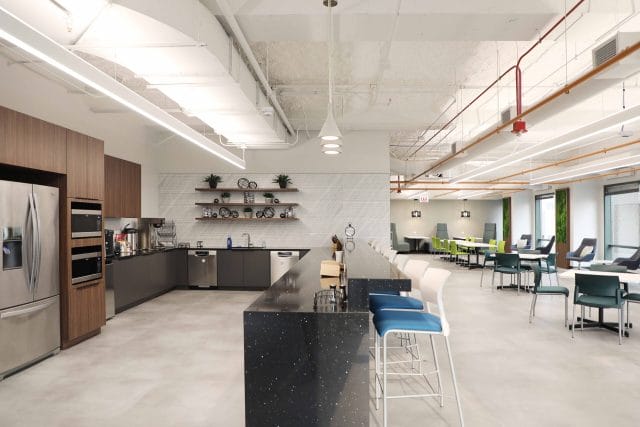 Skender, serving as general contractor, recently completed the 30,000-square-foot interior build-out at 500 W. Monroe St. for Corix Group of Companies. The water, wastewater and energy utility firm consolidated its offices across North America to downtown Chicago. The new offices will immediately house approximately 70 employees.
"This was the right thing to do in support of our strategies for the future," said Lisa Sparrow, Corix President and Chief Executive Officer. "We will continue to need to draw the 'best and brightest' into our workforce and an urban setting along with suburban transit access, greatly facilitates that."
The technology-rich office space offers amenities to support a highly collaborative, productive and flexible workplace. Key spaces include a café overlooking the Chicago skyline, collaboration areas, conference/team rooms of varying sizes, and a sustainably harvested moss accent wall at the entry to the board room.
Corix's Shared Services group will comprise the bulk of the workforce and currently supports all the local business units throughout the United States. "Our mission of providing absolutely top-notch, cutting-edge support to all of our businesses in areas like finance, information technology, human resources, communications, customer service and billing will be greatly enhanced through this move, both in terms of collaboration and availability of the best technology resources out there today and for the future," noted Jim Devine, Chief Shared Services Officer. He added, "We are certain that this new location positions us well to deliver world class service and facilitate the expansion plans of our local and state level business units."
Skender collaborated with architecture firm Nelson, owner's representative Colliers International and engineering firm Environmental Systems Design to successfully complete the project on a very tight schedule.