Skender Completes Interior Construction of new 536,000-SF Bank of America Flagship Office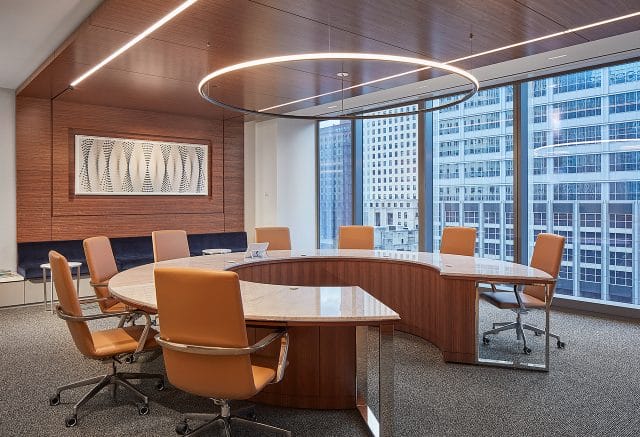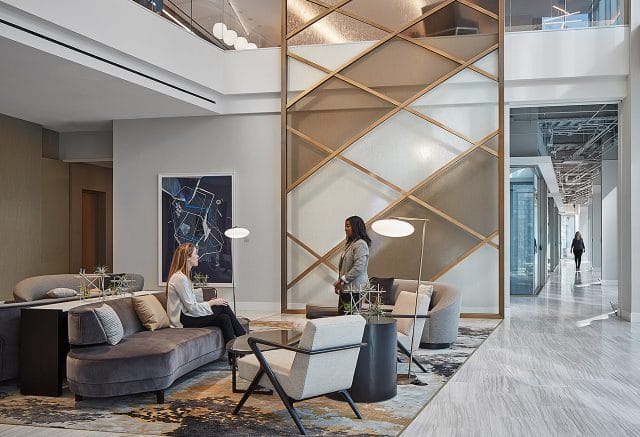 Skender recently completed interior construction of the 536,000-square-foot office relocation for Bank of America's (BofA) downtown Chicago offices. Bank of America, one of the world's leading financial institutions, relocated to the Bank of America Tower at 110 N. Wacker, a new Class A+, 56-story high-rise that was concurrently under construction.
Encompassing 17 floors, approximately one third of the building, BofA's new space includes private offices, open workstation areas, conference rooms, work cafés / pantries, support space and other modern workplace amenities. Unique features include a trading floor with supplemental cooling and uninterrupted power supply, critical-systems infrastructure, custom two-story trellises, a barista bar and market café, and two dedicated outdoor terraces. In addition, the interior includes a monument staircase connecting a two-floor conference center and executive suite.
"Completing this trophy project was a tremendous team effort in the face of unprecedented external challenges," said Bank of America Senior Vice President Sarah-Lynn Cinquegrani. "Skender played a critical role in the project's success – skillfully and safely managing hundreds of tradespeople and the complex logistics necessary to deliver our new office on time and under forecast. I couldn't be more impressed with the team at Skender."
Serving as general contractor, Skender collaborated with JLL, Interior Architects, and engineer Syska Hennessy Group to successfully complete the large-scale project on time, on budget and in the middle of the COVID-19 pandemic.
"Building one of Chicago's largest interior construction projects during a global pandemic is a testament to the collaboration, commitment and ingenuity of all partners on this project," said Skender Project Executive Ashlee Pforr. "We're proud of our Skender team's unbroken focus on quality, safety and efficiency in the face of unprecedented circumstances."