Skender Completes Interior Buildout on West Loop Office for Fetch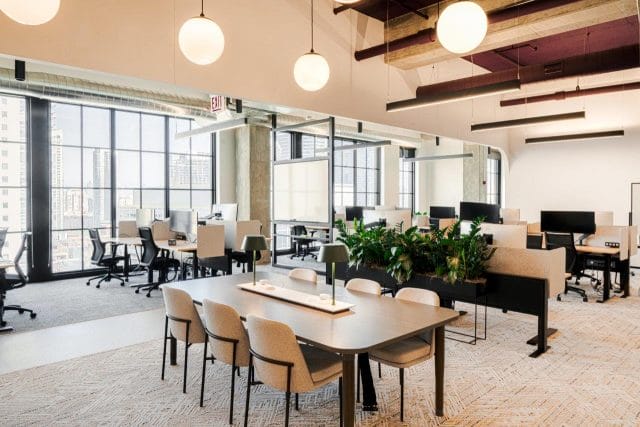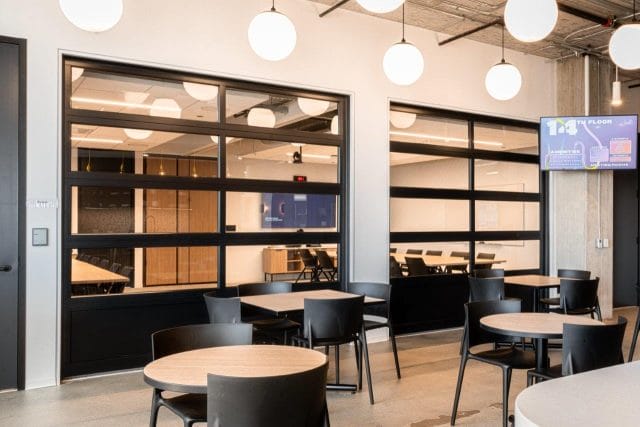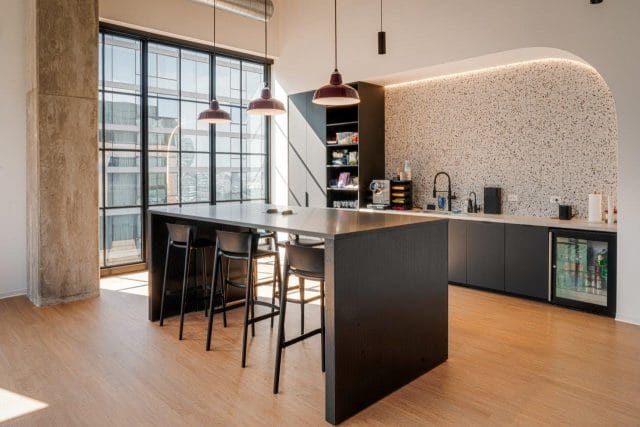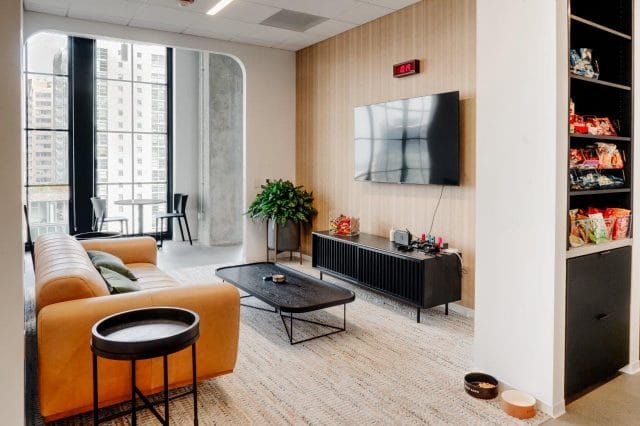 // New bespoke space fuses Chicago's heritage and modernity to meet diverse employee work styles //
Skender has completed the interior buildout of a new Chicago office for Fetch, the nation's No. 1 rewards app and leading consumer-engagement platform, founded in Madison, Wisconsin.
The 20,000+-square-foot workspace spans the top three floors at 609 W. Randolph, a new West Loop office building completed in 2022 and built by Skender as general contractor. The finished space features 60 open-concept workstations, three café areas, three all-gender restrooms, 19 conference rooms, 17 phone rooms and a game room outfitted with arcade machines and a pool table.
To meet Fetch's need for an all-hands space, two of the conference rooms can be combined through the use of an operable partition, then further combined with the neighboring café via the rollup of two glass doors, creating one large integrated area for all-company meetings and events. Additionally, the AV systems in the all-hands space are set up to function seamlessly as both individual rooms and as one cohesive room, a complex programming process that required the company to have its own AV network.
"This move gives Fetch ample room to grow and stretch out," said Brian Eddy, Project Manager at Skender. "Our team seamlessly embraced the challenges presented by the simultaneous construction on three separate floors as well as the complexities of the AV system setup. Fetch employees now have a modern new office that caters to many kinds of work styles."
"As a remote-first hybrid company, Fetch empowers employees to design flexible work arrangements tailored to their role, and we've structured our operations to maximize collaboration across virtual and in-person environments," said Rachel Olchowka, Chief People Officer at Fetch. "Physical office space plays a key role in our work and culture by serving as a hub where employees can come together to foster innovation, strengthen connections, and bring our shared values to life."
Construction started in March 2023 and wrapped up on time in July. In addition to Skender's role as general contractor, the project team consisted of architect BOX Studios; Lumen Workplace acted as owner's representative; the engineering and LV engineering was completed by Cosentini and Engineering Plus respectively; CBRE acted as broker.
"We very deliberately chose this boutique setting as the starting point for us to craft a space that embodies our organization's unique identity and reflects Chicago's rich heritage," Olchowka added. "Thanks to Skender, this vibrant new office will help us continue embracing diverse ways of working and fostering inclusivity. We are thrilled to call it our new home and have it serve as the backdrop to our limitless creativity and continued growth."