Skender Completes First Biotech Lab Space and Base-building Work at 2430 N. Halsted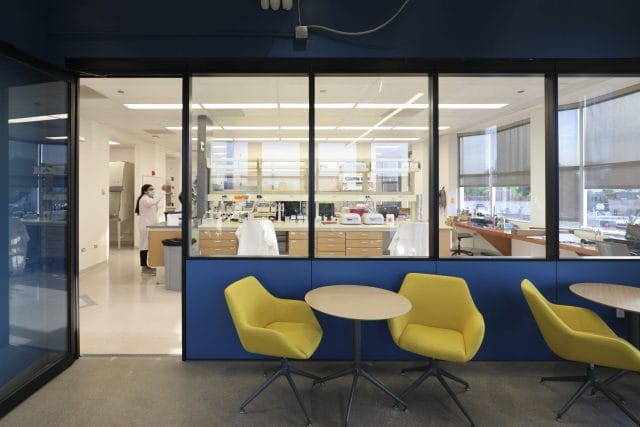 Skender, serving as construction manager, recently completed interior construction of the 30,000-square-foot laboratory and research office space for Exicure, Inc., a pioneer in gene regulatory and immunotherapeutic drugs. The clinical-stage biotechnology company is the first tenant in developer Sterling Bay's recently redeveloped life sciences building at 2430 N Halsted.
Occupying the entire fourth floor, Exicure's workspace features 44 lab stations, 11 fume hoods, open-office workstations, two tissue culture rooms with alarmed pressurization, an uninterrupted power supply, and space adapted for a custom-built DNA synthesizer machine. Skender collaborated with Sterling Bay, CannonDesign and CBRE to successfully complete the project.
As part of the base-building scope, Skender also worked with developer Sterling Bay to build-out the first- and second-floor common areas of 2430 N Halsted, a 125,000-square-foot medical research facility offering modern, flexible commercial lab space in the city's Lincoln Park neighborhood. Skender's base-building work included a reception area, four conference rooms, two staff offices, upgraded HVAC, new security and a lounge space for tenants.