Skender Completes Construction on 16-Unit Affordable Housing Building in Wilmette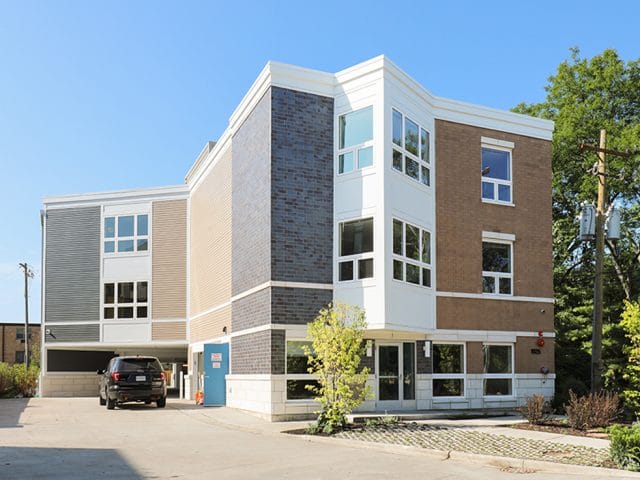 Skender, serving as general contractor, recently completed construction on Cleland Place, a three-story, 16-unit affordable housing development at 1925 Wilmette Ave. in Wilmette. The new development will provide affordable housing for working families, seniors and veterans and will be operated by the Housing Opportunity Development Corporation (HODC). The project is named for Jean Cleland, a long-time Wilmette resident and founding member of the HODC, as well as an advocate for civil rights and affordable housing in the North Shore.
Completed within a 10-month timeframe, the Skender team managed the construction of this project in a tight, logistically challenging jobsite with minimal disruption to the surrounding community. The building features one- and two-bedroom units and amenities including a laundry room, elevator, covered parking and resident-driven social activities.
The ribbon-cutting ceremony for Cleland Place took place on Thursday, August 26, to signify the opening of the facility. "I'm so excited that Cleland Place is now open for residents, and to see my Grandma Jean's values and passion for affordable housing live on in Wilmette," said Kelsey Cleland, Program Director at The Goldie Initiative and granddaughter of Jean Cleland.
Skender collaborated with developer Housing Opportunity Development Corporation and architect Cordogan Clark & Associates on this project. Skender has recently completed several affordable and supportive housing facilities throughout Chicago and its suburbs, including Sarah's on Sheridan Supportive Housing Facility in Uptown, The Residences of Crystal Lake in Crystal Lake, and Woodlawn Station in Chicago's Woodlawn neighborhood.