Skender Completes Construction of Southwick Place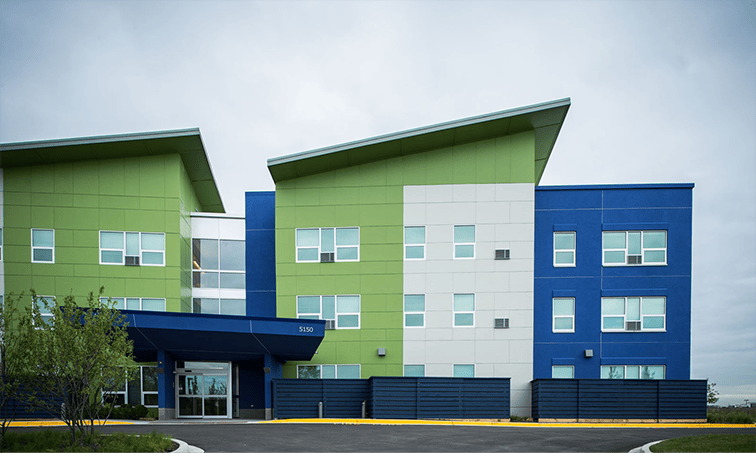 Skender Construction has completed construction of Southwick Place, a 40-unit affordable housing development located in south suburban Matteson. The apartment community is owned by Over the Rainbow Association (OTR), an Illinois nonprofit association dedicated to providing affordable, barrier-free housing solutions for people with physical disabilities. All units within the 37,000-square-foot complex exceed the 2010 ADA Standards for Accessible Design, designed to remove barriers for people who use wheelchairs or need other assistance with mobility.
"Southwick Place joins eight existing Over the Rainbow Association properties and two more apartment communities in development in the Chicagoland area. These homes positively impact the lives of nearly 300 people with physical disabilities by creating barrier-free living spaces, thus helping them to live independently and control their own lives," said Eric Huffman, executive director of OTR. "For a number of brand new Southwick tenants, this is a very first fully accessible home, and they are elated and thankful for the opportunity to live and thrive with dignity. With Southwick, we really wanted to make a statement by pushing the boundaries from a design and construction standpoint. We wanted to convey that affordable housing doesn't have to be so basic; it can be exciting."
Skender served as general contractor for the Weese Langley Weese-designed, IHDA-funded apartment community. The team worked under a compressed schedule, with construction beginning in July 2013 and ending in May 2015. The building takes on a geometrical form with an angled roof system, and the facade is a vibrant combination of color and materials, connected by a floor-to-ceiling glass vestibule that allows sunlight to enter each floor. In order to exceed ADA compliance, unique design elements in the apartment community included wider hallways, limited carpet to better accommodate wheelchairs, large roll-in showers, elevated counter tops, additional elevators, varied base details, matching thresholds, drop-in cook tops, wall-mounted oven ranges, precisely positioned kitchen sinks and easy-to-open custom windows.
"From the beginning, Over the Rainbow's mission motivated our team and we were all on board to create the best possible home for adults with mobility impairments," said project manager, Brian Skender.