Skender Completes Construction of Milwaukee Tool's Chicago Office in Historic Old Post Office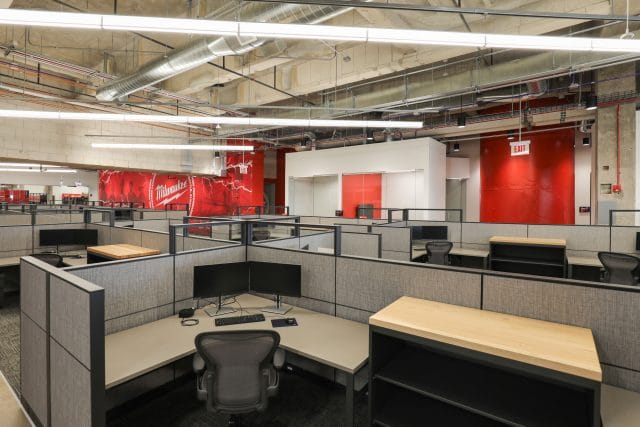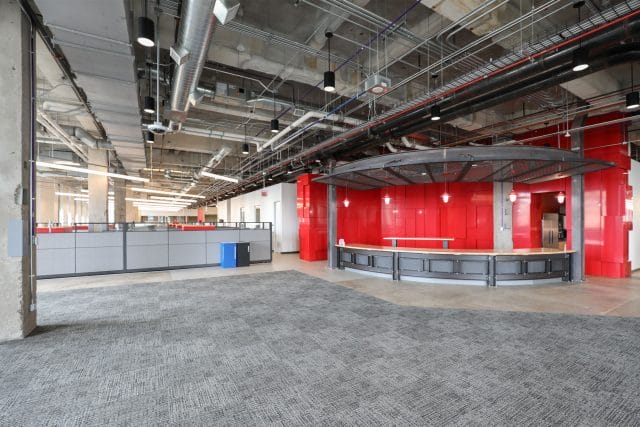 Skender, serving as general contractor, recently completed construction on an engineering design and innovation space for leading jobsite solutions developer Milwaukee Tool in Chicago's Old Post Office. The 70,000-square-foot space is located on the third floor of the south building and encompasses 10,000 square feet of research and development lab space and 60,000 square feet of open and private offices. The office space includes a large collaboration space called the Beehive, as well as a training room and multiple medium-sized conference rooms. The firm's first engineering office outside of Wisconsin signifies its growth efforts to attract the top Midwestern technical talent.
The lab space provides room for the company's engineers to develop innovative ways to solve problems that make the brand's end users safer and more productive. It includes a sound-controlled testing room for use-cycle testing on batteries and power tools, as well as thermochambers for longevity and lifecycle testing. In such a historic building, the McGuire engineering team secured a variance request with the City of Chicago so Milwaukee Tool could house special pieces of equipment in the lab to give them the capabilities for this to be a state-of-the-art facility.
To meet Milwaukee Tool's immediate space needs, Skender split the project into two separate permits to expedite the lab space for the team of engineers who needed access to the lab as soon as possible. The construction team was able to navigate through the ongoing supply chain crisis to deliver the entire space in 20 weeks – with an expedited turnover in 12 weeks for the lab space overlapping with the 16-week build-out for the office space.
"As Chicago's lab sciences sector continues to expand, this project demonstrates the complexities in the sector and the required collaboration to bring them to life," said Jacob Boyle, Senior Project Manager, Skender. "Our building team's seamless coordination with Milwaukee Tool allowed us to deliver the space as quickly as they needed it."
Skender collaborated with owner's rep JLL, architects Nelson and SPS and engineering firm McGuire to build Milwaukee Tool's Chicago headquarters. Skender has also entered into an official partnership with Milwaukee Tool to streamline access to its power tools and products on future projects in the midst of a supply chain pinch.