Skender Completes Construction of Bunker Labs at 1871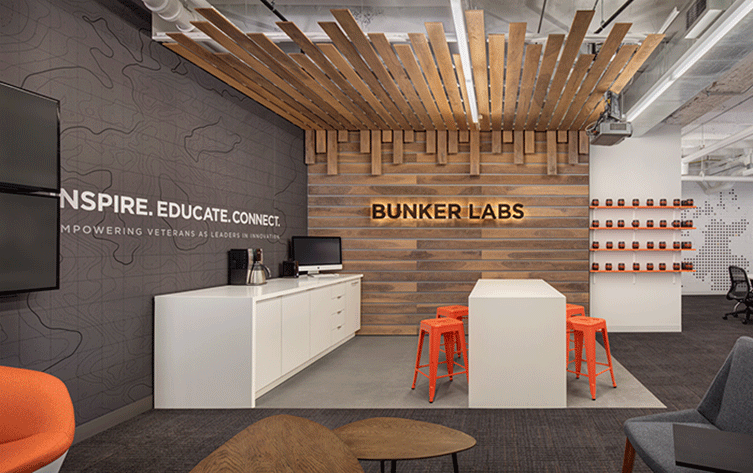 Skender Construction has completed construction of Bunker Labs, a veteran-owned business incubator within 1871 that supports fellow veteran entrepreneurs. Skender worked in collaboration with the Chicago office of global architecture and design firm Perkins+Will and multiple like-minded trade partners, volunteering services and donating materials to complete the buildout in Chicago's Merchandise Mart.
With headquarters in Chicago and chapters in seven other cities, Bunker Labs is a program built by veteran entrepreneurs for veteran entrepreneurs. Their objective is to launch and accelerate veteran-owned businesses and create a new forum for high-performing veterans to meet and collaborate. To date, Bunker Labs has helped veterans start 120 different businesses across the United States.
"Our relationship with Perkins+Will and Skender Construction was critical, and it proves what can be achieved when like minds meet," said Todd Connor, CEO of Bunker Labs. "Skender was our first partner in construction during the redesign. Without their support, we wouldn't have known where to turn for what we really needed. Because of their care and excellent work, we have an accommodating, inspiring location for U.S. veterans to pursue their dream of owning and running a business."
Perkins+Will designed the space to fulfill the need for current veterans to have a bold and flexible workspace to meet, interact and share ideas and experiences much like past generations have at their local VFW hall. From the graphic walls to the wood features, the notion of military verse tech begins to illustrate that of a mission control comprised of a hospitality and situation zone.
An interactive coin wall allows veterans to leave their mark by contributing their Challenge Coin as a symbol of their support for fellow entrepreneurs going through the Bunker Labs' program. The abstraction of George Washington was chosen as he was the first General of the Armies of the United States, similarly in that this space serves as the flagship location and inspiration for future Bunker Labs locations across America.
"The more I got to know Todd, the more I realized how much Bunker Labs genuinely cares about U.S. veterans," said Brian Skender, a project manager at Skender Construction. "That commitment inspired us to make the buildout one they would take pride in. By working together, we knew we would help empower people to reach their potential."