Skender Completes Comprehensive Repositioning Project at 3500 Lacey in Downers Grove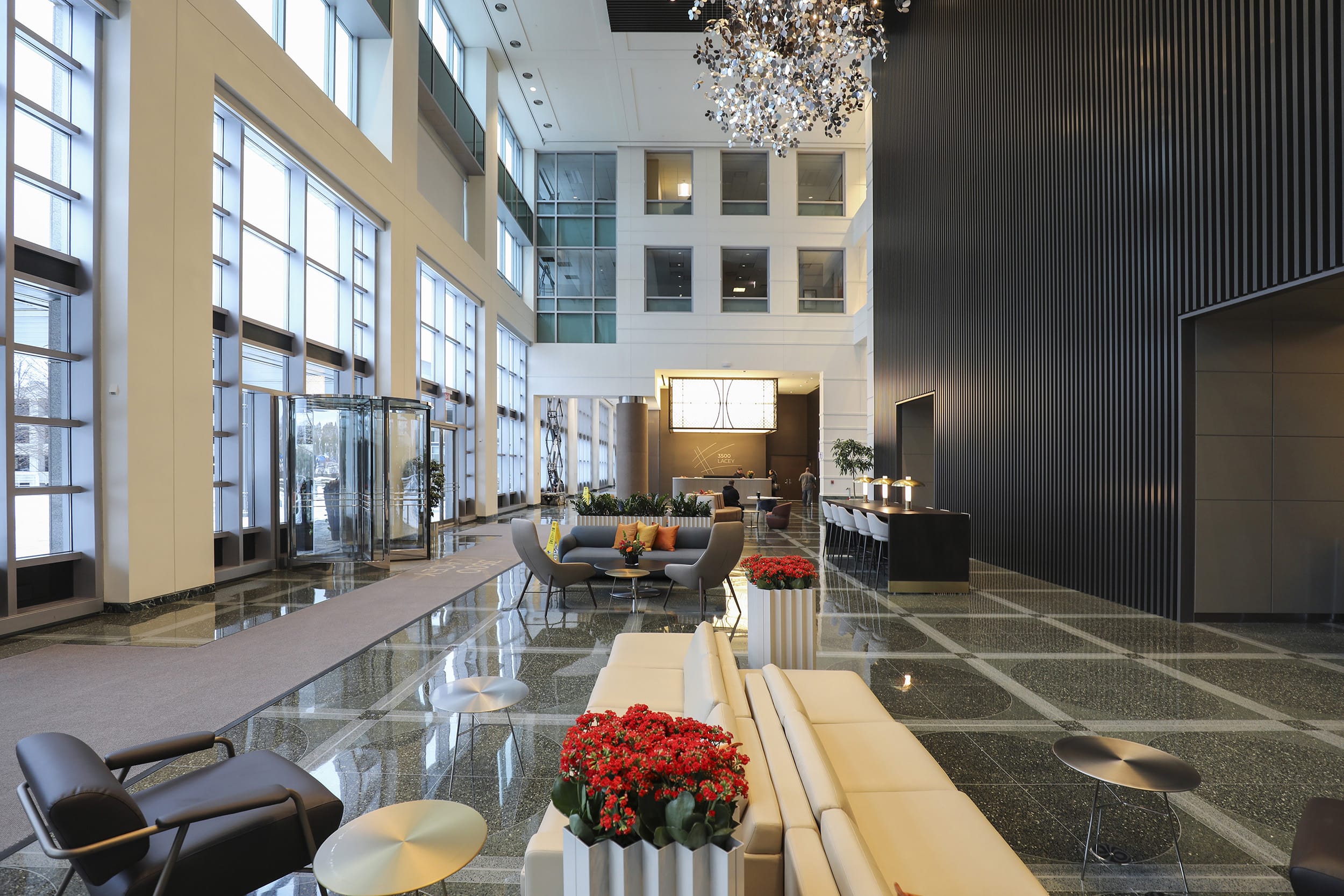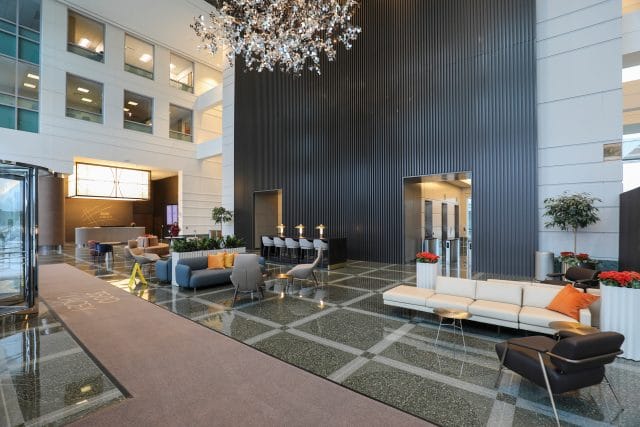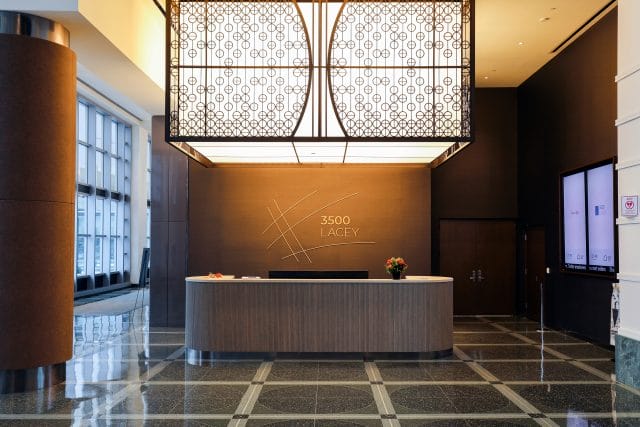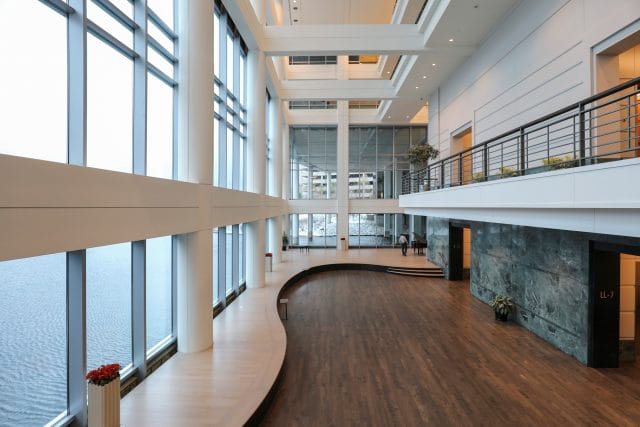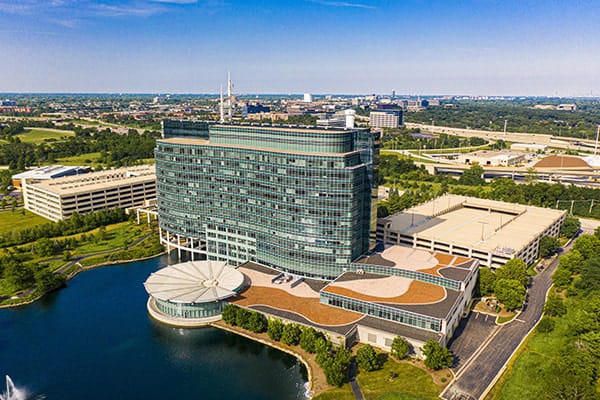 Extensive lobby and amenity updates bring upgraded sophistication to former Sara Lee headquarters
Skender today announced the completion of a landlord capital improvement project at 3500 Lacey, located at the convergence of Interstates 355 and 88 in Downers Grove, Illinois. The former Sara Lee headquarters was built in 1992 and was purchased by KORE Investments in 2019. In May 2022, Skender began renovating the 622,600-square-foot building's lower lobby, main lobby and fitness center. The revitalized building is an example of how Chicago's suburban offices can evolve to compete with their downtown counterparts.
Skender served as general contractor for this project, working with OKW Architects to create a fresh and updated space for 3500 Lacey tenants to enjoy. The striking office building is also home to the Esplanade Lakes Ballroom, a wedding venue operated by DoubleTree. Adding to project complexity, the office building lobby was used on weekends as a cocktail area. Skender was able to successfully coordinate construction to allow these events to go on as planned and without disruption. Skender used scissor lifts rather than scaffolding to allow for discrete construction and was able to keep the lobby aesthetically pleasing during weekends.
"This was a substantial remodel project and truly an amazing construction journey with Skender," said Anne Esterquest, Vice President of Operations at KORE Investments. "3500 Lacey is a trophy office tower and these enhancements, along with our technology integrations, add substantial value for our existing first-class tenant experience. We couldn't be more delighted with how things turned out. The investment fully embodies KORE's people-centric values and community-affirming culture."
In the building's primary lobby, Skender worked with structural engineers to add two new primary light fixtures to the 68' ceilings, totaling nearly 2,000 pounds. The new lighting provides a welcoming aesthetic at the new reception deck and accompanying colorful seating options. Portions of the wood paneling and wall stone were swapped out for a modern black and metal design that highlights the lobby's existing Terrazzo flooring.
A bar area serving morning coffee and pastries and evening happy hour drinks was built, along with library-style desks for hybrid work, and plants were added throughout the building to enhance the feel of the space. The building's custom app provides tenants with important building information and updates as well as an order-ahead system that syncs with the new coffee bar for grab-and-go food and beverages.
On the lower level, Skender upgraded the area that serves as a connection to amenities and the wedding venue. Skender worked with a specialist to stain the complex existing wood floors and added plantings. A state-of-the-art fitness center including showers and lockers is also complete.
"In the face of global supply chain constraints and inflation, Skender worked hard to find the right balance of speed and cost effectiveness and, together with OKW Architects, we were able to provide solutions to every issue we encountered and made decisions together as a team," said Tim Rogers, Project Executive at Skender. Skender frequently partners with building owners and their property management teams for major asset repositioning projects and a full range of landlord construction services. In 2022, the firm won Interior Contractor of the Year for owner projects at the Chicago Commercial Real Estate Awards.
JLL served as management and owner's representative on this project.
To learn more about 3500 Lacey, visit https://koreinvest.com/properties/lacey/