Skender Completes Complex Landlord Construction Project at 225 W. Wacker Drive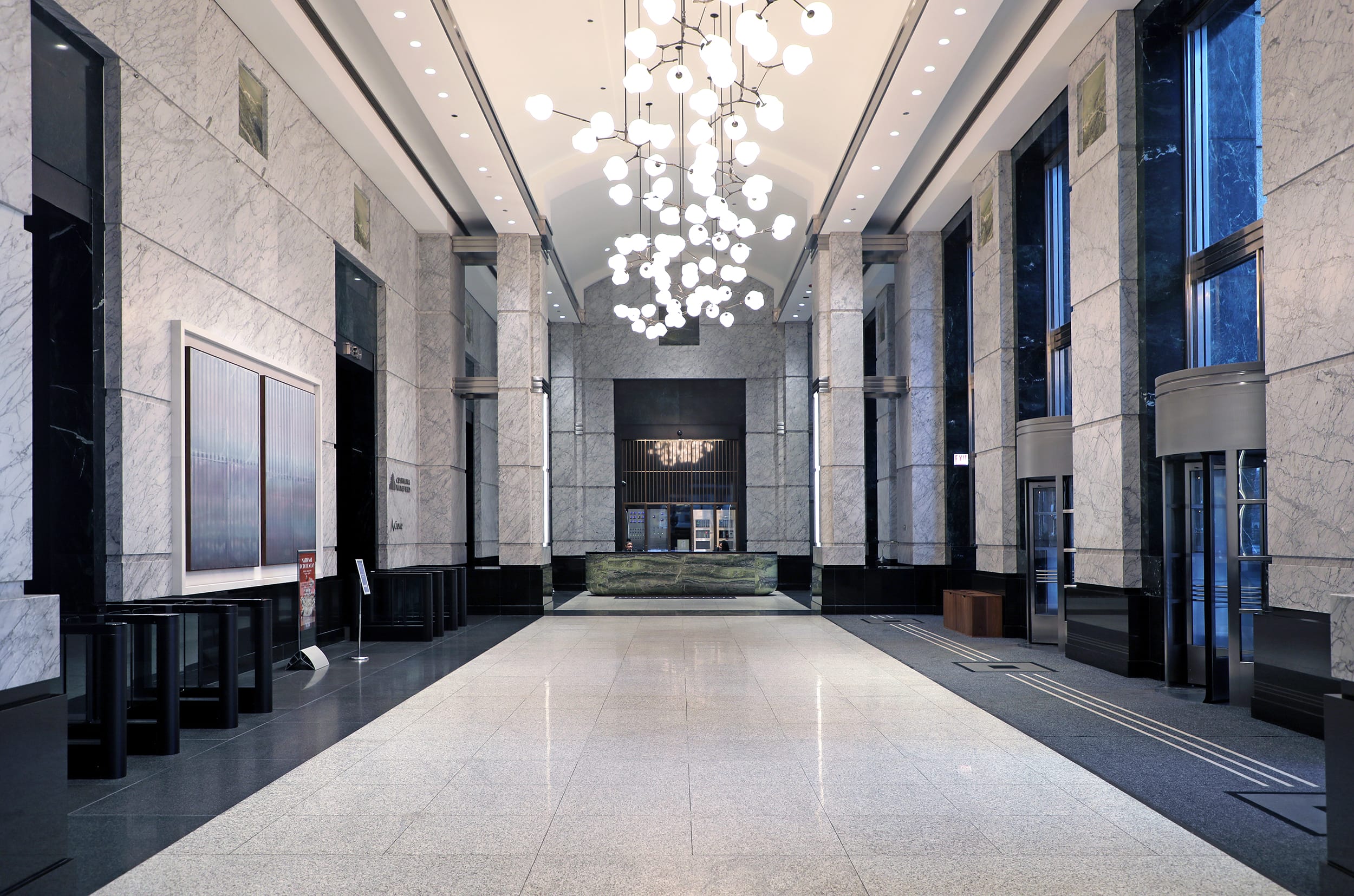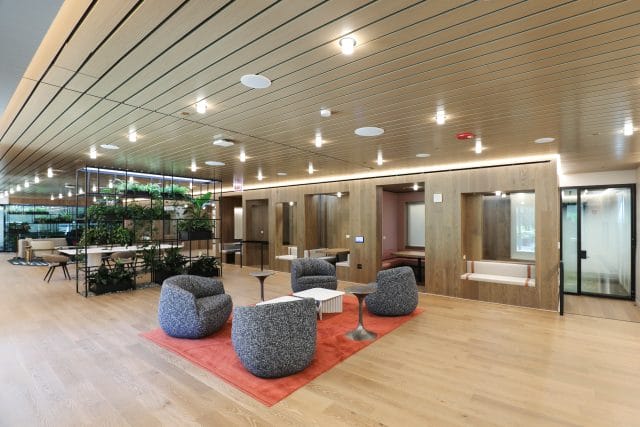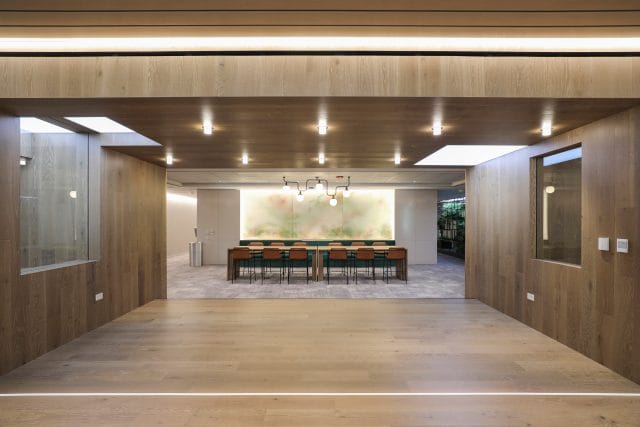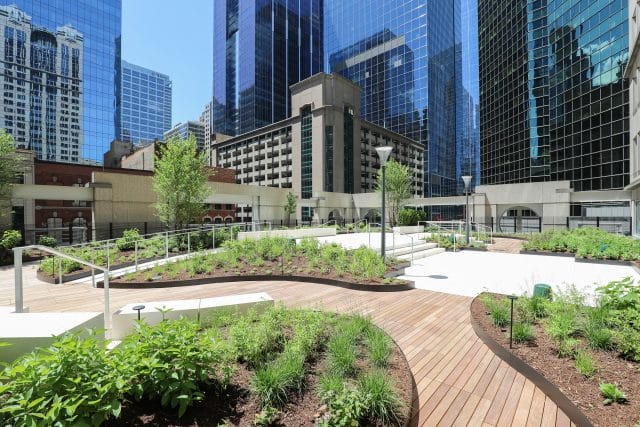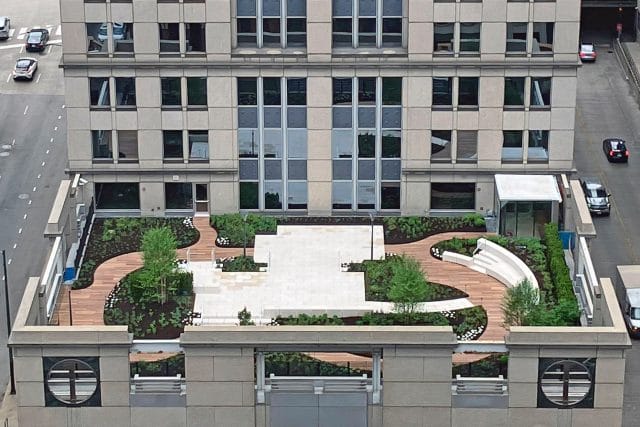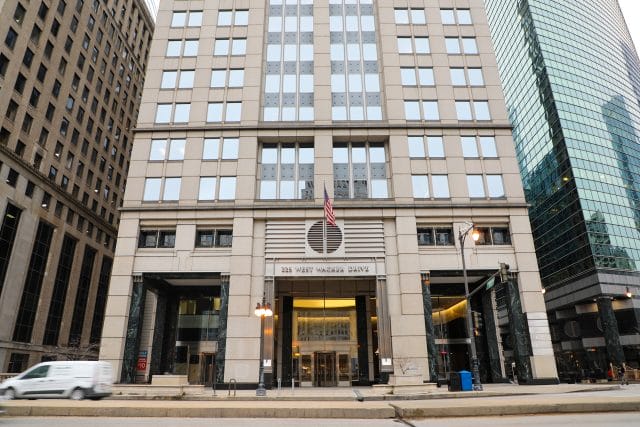 Extensive upgrades throughout the West Loop office tower bring luxury, function and a tribute to the Chicago River  
Skender today announced the completion of a landlord capital improvement project at 225 W. Wacker Drive in Chicago, a 31-story, trophy-class office tower located in Chicago's West Loop submarket, fronting the Chicago River. The 651,000-square-foot building is owned by San Francisco-based Spear Street Capital, who hired Skender as general contractor to concurrently manage three different construction projects at the property. Valerio Dewalt Train is the architect of record and New York-based Kohn Pedersen Fox Associates (KPF) is the designer.
Skender began the process of renovating the building's lower lobby and Franklin Street entrance, fourth-floor amenity space and roof deck in summer 2021. Substantial construction wrapped up in November 2022, and the revitalized building is an example of how Chicago's downtown office towers can evolve to accommodate a more hybrid workforce.
The first completed phase was the building's dedicated tenant amenity floor. The reenergized amenity space features operable Skyfold partitions for flexible conferencing options; lush botanicals and plantings; high-end audio/visual offerings; and commissioned art incorporating minerals from the Chicago River, which pays homage to the building's striking riverway backdrop. Custom architectural millwork gives the space a warm and luxurious feel that invites tenants in to work, chat or rest.
Connected to the fourth-floor interior space is a completely redesigned open-air terrace with gardens. The Skender team overcame weather-related challenges to install extensive plantings and vegetation while also ensuring proper water filtration and drainage, a complex undertaking for urban roof decks. To execute the stunning design, Skender successfully tied into the existing building for visual continuity, punched openings for curtainwall, removed stone to add a new membrane, and redesigned the vestibule area for better interior temperature control.
For the redesigned building lobby, the Skender team was able to expertly navigate a complex construction process while keeping the space fully functioning for office tenants, and high-end materials are now taking center stage.
"The project team was committed to using high-end stone from Italy, which despite supply chain and shipping challenges, was well worth the extra time to install," said Tim Rogers, Project Executive at Skender. "It's just stunning and really creates a sense of arrival. It incorporates horizontal graining to represent the Chicago River, and the backlit onyx stone gives the turnstiles a sense of fresh luxury."
For the flooring, wood was added for warmth and light, and an overhead slab was cut in one section to achieve double-ceiling height. On the exterior, there is a brand-new curtainwall on the Wacker Drive side, and a refreshed entrance on the Franklin Street side. An arresting new light fixture and reception desk serve as memorable welcoming points for visitors and tenants alike.
Skender worked hard to strike the right balance of speed, cost effectiveness and agility, and together with Valerio Dewalt Train Architects, the team was able to find solutions to every issue encountered by making decisions through collaboration and communication. Despite extra supply chain challenges related to the highly custom materials, Skender was delighted to complete the entire three-part project of seamless construction without disruption to tenants over the course of 16 months.
Cushman & Wakefield served as management and owner's representative on this project. OEHME, VAN SWEDEN (OvS) served as the landscape architects of the rooftop terrace. Syska Hennessy Group served as MEP engineer.
To learn more about 225 W Wacker Drive, visit: https://www.225westwacker.com/