Skender Completes 200,000-SF Interior Construction on Walgreens Technology Center of Excellence in Old Post Office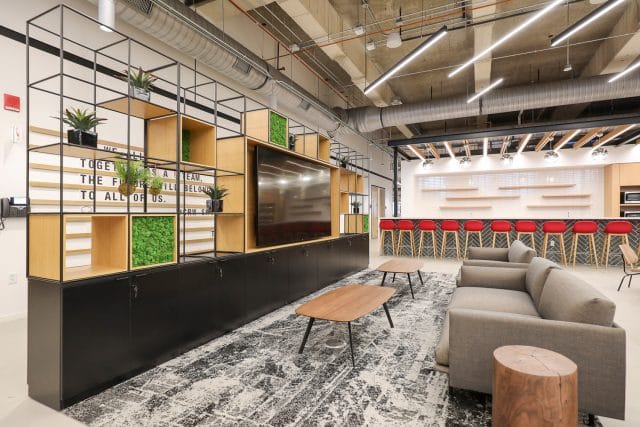 Skender, serving as general contractor, completed construction last year on the new Walgreens Technology Center of Excellence, a 200,000-square-foot, open-office workspace in the redeveloped Old Post Office at 433 West Van Buren. The office, which was finished during the COVID-19 shutdown, will eventually welcome hundreds of employees, including e-commerce, mobile, pharmacy technology and digital team members as well as Walgreens Boots Alliance Information Technology personnel.
The expansive office spans multiple levels and buildings of the Old Post Office development and features a signature staircase, open and private offices, collaboration and conferencing spaces, data rooms, and kitchen and lounge spaces. It increases Walgreens presence in Chicago, where the company was founded in 1901, and signifies a commitment to attracting top technology talent with its desirable downtown location. Walgreens was the first major tenant commitment to the Old Post Office redevelopment project in 2018, and Skender's first project of several in the major renovation of the iconic riverside Art Deco building.
"The Walgreens Old Post Office project represents collaboration, ingenuity and progress and was completed during a particularly challenging time for the City of Chicago and world at large," said Skender Vice President Brian Bukowski. "We are proud to be part of the team that brought this innovative space to fruition and know that it will power Walgreens' innovation for years to come."
Other key project team members included: Mace as owner's representatives; Stantec Inc. as architect and engineering firm; and the Walgreens construction and architecture departments.