Skender Completes 100,000-SF Renovation for New South Side Charter School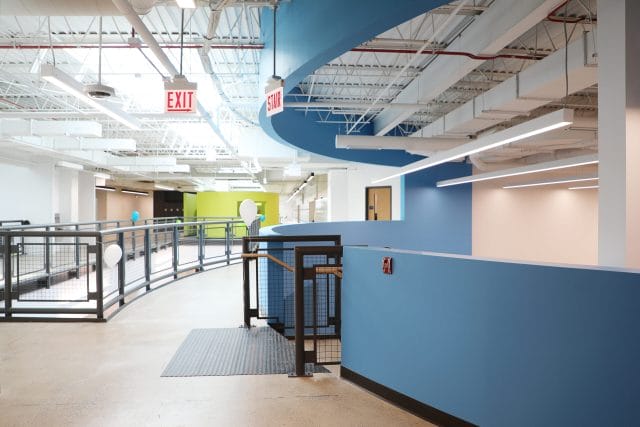 Skender recently completed the conversion of the 100,000-square-foot former Soft Sheen building at 8522 S. Lafayette into a middle and high school for Perspectives Charter Schools.
Founded in 1997, Perspectives Charter Schools (PCS) is one of the first charter schools in Illinois whose mission is to develop ethical leaders. Today, PCS manages five open enrollment, tuition-free public schools serving students in grades 6-12 in the communities of Auburn Gresham, Bronzeville, South Loop and now Chatham.
Construction included interior and exterior alterations to an existing two-story steel-framed structure with a masonry exterior. For classes starting next week, the new charter school will provide STEM-forward classrooms, a monumental staircase that will also serve as seating for an auditorium, two large gymnasiums and flexible outdoor space for a future athletic field.
Serving as general contractor in a joint venture with The Bowa Group, Skender worked in collaboration with Perkins + Will and ConopCo Project Management to complete the project by fall semester for PCS students to enjoy a new, healthy and productive school environment.