Skender Breaks Ground on 345 N Morgan, a 200,000-SF office and retail building in Fulton Market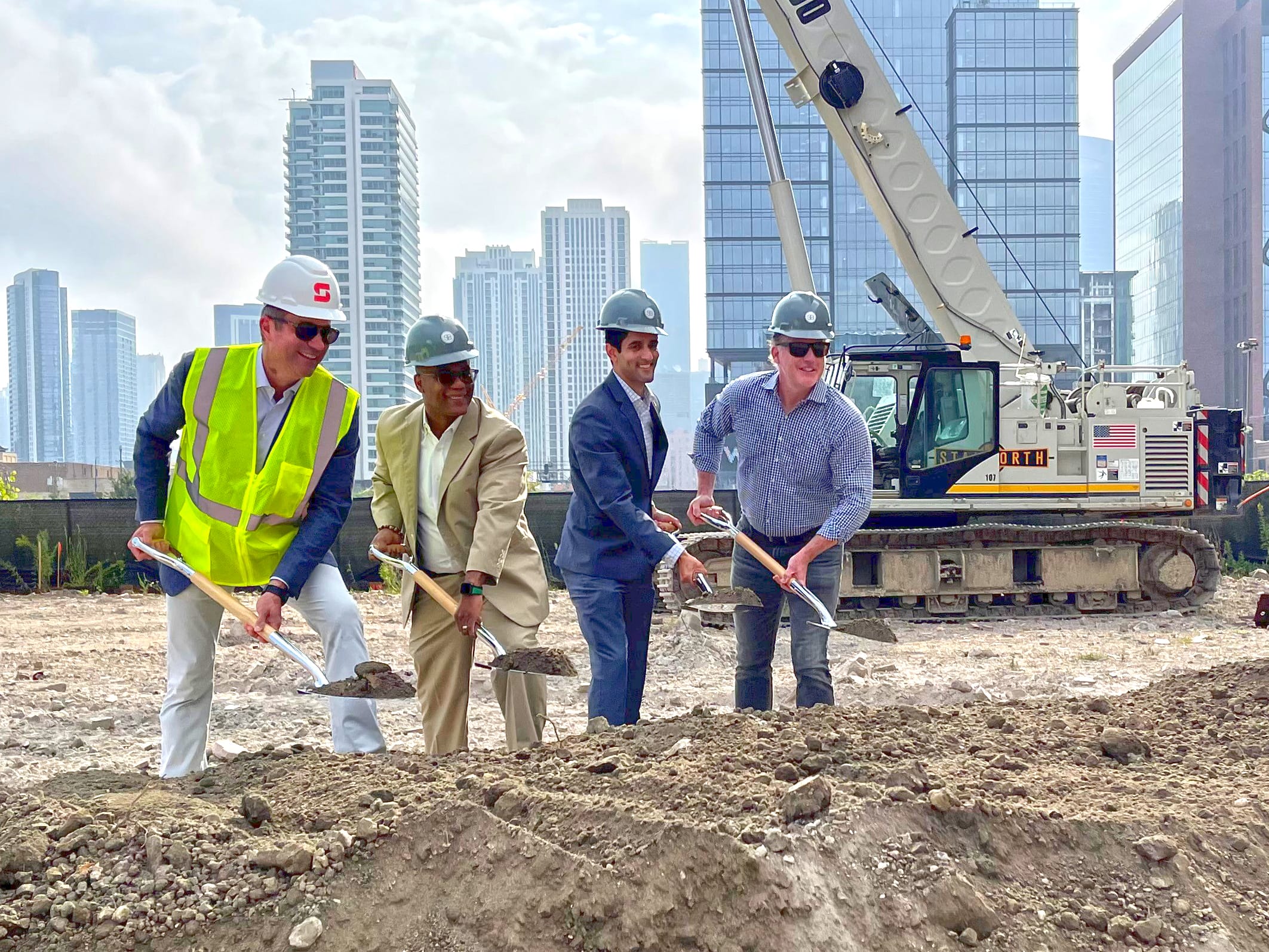 Skender and Sterling Bay hosted a groundbreaking ceremony at 345 N Morgan this morning with 27th Ward Alderman Walter Burnett, Deputy Mayor Samir Mayekar and project architect Eckenhoff Saunders Architects. This groundbreaking marks the start of construction on the 200,000-square-foot boutique office and retail building located in Fulton Market.
"Sterling Bay began pre-development on 345 N Morgan many months before COVID-19 was on anyone's radar. In fact, we were ready to begin digging at the site in early March 2020, just days before everything – including this particular project – came to a swift halt," said Andy Gloor, CEO, Sterling Bay. "Today, after navigating over a year's worth of pandemic-related challenges, we are proud to break ground on this state-of-the-art development that will build on Fulton Market's reputation as a premier destination to collaborate and do business in Chicago."
Acquired by Sterling Bay in 2014, 345 N Morgan is a speculative development that will offer future tenants open, customizable floor plates for maximum flexibility and collaboration in an unbeatable location. Designed by Eckenhoff Saunders Architects, the space features sleek, modern finishes, soaring ceilings, arched windows, and welded metal accents, drawing on the neighborhood's industrial past. Amenities include private outdoor terraces, a 5K-square-foot roof deck with sweeping views, a conservatory bar & lounge with a double-sided fireplace, a full-service fitness center, a coworking library and several high-tech conference spaces to meet the needs of today's virtual world.
In addition to offering tenants a completely customizable workplace experience, 345 N Morgan will also complete construction in just 13 months, significantly faster than comparable developments of a similar size, allowing future tenants to move into their new office space as early as September 2022.
"Skender is proud to be a part of the team that will bring 345 N Morgan to completion on an accelerated timeline. COVID-19 has caused countless development delays and disruptions across Chicago, but this project will deliver in just over a year – that's a significant accomplishment even by pre-pandemic standards," said Justin Brown, President & CEO, Skender. "We understand the high level of integration that this project demands and are committed to executing the seamless, collaborative and efficient process for which Skender is known."
As part of its commitment to expand opportunities for minority-owned firms, Skender has formed a joint venture partnership and JLL Construction, a local certified minority-owned business, in the development of this project. JLL Construction is headquartered on the west side of Chicago and, like Skender, has an extensive portfolio of projects in the Fulton Market area. As development progresses, 345 N Morgan will meet the city's standards for M/WBE engagement at the 26/6 participation level.