Skender Begins Structural Construction for Indiana University Health Capitol View in Downtown Indianapolis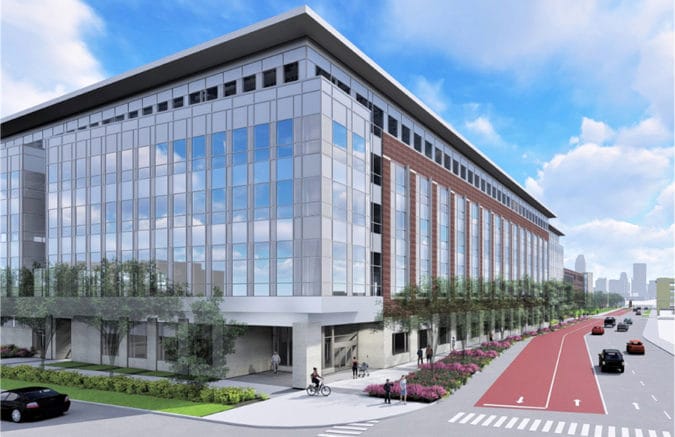 Skender, a leading construction firm based in Chicago and Indianapolis, announces its work with Meyer Najem Construction on the new Indiana University Health (IU Health) Capitol View medical office building and parking garage. IU Health is currently undergoing a major transformation and expansion within its downtown Indianapolis medical campus. The new facility is located on two city blocks bordered by Capitol Avenue on the west, Muskingum Street on the east, 14th Street on the south and 16th Street on the north.
The project consists of a new 250,000-square-foot medical office building (MOB) and 310,000-square-foot precast concrete parking structure that has 939 parking spaces, connected with a pedestrian bridge. The structural steel MOB will be finished with an appealing façade blend of curtain wall, metal panels, masonry and Indiana limestone. The project team is pursuing LEED Silver certification due to the property's numerous sustainability features and high energy performance.
"We are pleased to continue our partnership with IU Health to deliver the best healthcare experiences for patients in Indianapolis," said Brian Simons, Vice President, Skender. "This urban infill site has been a topic of intense scrutiny for more than a decade, and now, the promise of revitalization to the surrounding neighborhood is a reality. The project requires skillful coordination with public transit and heavy urban traffic, and our entire construction delivery team is rising to the occasion to ensure streamlined project execution with minimal neighborhood disruption."
The project has been under construction since November 2021 and is now beginning the structural phase of construction with anticipated delivery in summer 2023. Skender is on the core construction delivery team with contractor Meyer Najem, architect atelierRISTING, MEP and civil engineer Circle Design, structural engineer Lynch, Harrison & Brumleve (LHB), and a team of dedicated trade partners.