Office Wellness Has To Begin Long Before Move-In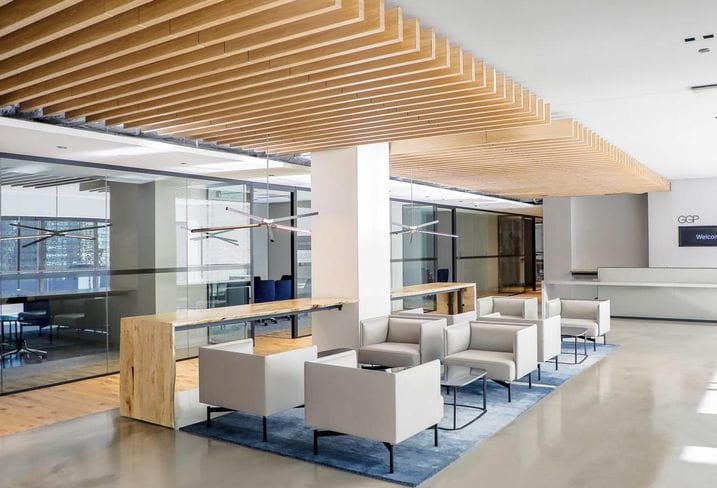 Articles on office wellness are filled with tips and tricks on how to plan corporate outings, the benefits of yoga or whether to offer pretzels or fruit. While wellness initiatives like these may increase job satisfaction somewhat, many fail to address one sticking point. Employees can't just be happy while exercising at a company-subsidized gym or having a snack — they need to be happy while hard at work.
A commitment to wellness has to begin long before a company moves into a new space, with the design and construction of the office itself. Environmental factors like office layout, lighting and noise levels can have profound effects on employee engagement, satisfaction and productivity.
"Office wellness can't just be an afterthought — it needs to pervade the entire process as companies choose a building, plan the office and work with contractors," Skender Vice President Clay Edwards said. "Design decisions have to be made early, so it's crucial to bring in a general contractor that can quickly set goals and calculate costs."
Design is the central issue of office wellness. Since the layout of an office will impact every day of employees' lives, Edwards said companies that have wellness in mind need to make the right choices to avoid falling into an open office trap.
The last true revolution in office design was the open office. In the early 2000s, technology companies began to eliminate grids of cubicles in favor of airy layouts that clumped desks together. And while the stated goal may have been a more collaborative workspace, the real reason for open office was to cut costs, Edwards said.
"Corporate America latched onto the open office trend mainly as a way to save on square footage, not to promote collaboration," Edwards said. "Now they've crammed too many people into too small a space. All that noise and clutter can seriously hurt productivity and happiness."
In order to preserve productivity, open offices require other design elements, including dedicated quiet work spaces and multi-use communal spaces. For quiet spaces, Edwards suggested having breakout rooms for two or more people, a central quiet workspace like a library and single-person workspaces that are better lit and decorated than traditional phone rooms.
Along with these quiet spaces, Edwards suggested companies build a single large communal area, separate from workspaces. Part kitchen, part meeting room and part event space, these areas can bring employees together for spontaneous interactions that don't distract people at their desks.
"At the Skender offices, we have what we call the Hub, and it's really the focal center of the office," Edwards said. "It's a place that's meant to be active and boisterous — it feels outside the day-to-day grind, and it's where creativity happens. Plus, it means that loud interpersonal meetings aren't happening in desk areas."
But wellness does not stop with the initial layout — office finishes have a large impact on how employees feel about their workspaces and employer. Preserving the original feel of a space can make employees feel that they work somewhere unique.
"Exposed finishes are getting more and more popular here in Chicago, since we have so much architectural history to celebrate," Edwards said. "In loft-style buildings in neighborhoods like Fulton Market, companies now want to leave the original exposed brick. And in high-rises, we are seeing requests for brick veneer to get that kind of raw look."
Edwards said he sees growing demand for finishes like raw concrete floors and recycled wooden accents. Fortunately, many of these trendy finishes also happen to be very sustainable, which can help employees know that their office is not just beautiful, but also environmentally friendly.
Materials like wood and concrete are also cost-effective — Edwards said finding savings is important to keep wellness a priority.
"When it comes to wellness design, companies will often make a list of everything they want, without actually pricing it out," Edwards said. "Then they see the bill and slash it all and forget about their goals."
Bringing in contractors, designers and engineers early in the process can help companies know which decisions are cost-effective and which are not, and can help to keep wellness design goals.
"These decisions can't happen in a vacuum," Edwards said. "Companies need to get their team together as soon as possible and design wellness to a target budget."
—
This article was originally published by and in collaboration with Bisnow.