Motorola Mobility Wins ENR Midwest Best Project and CoreNet Chicago Project of the Year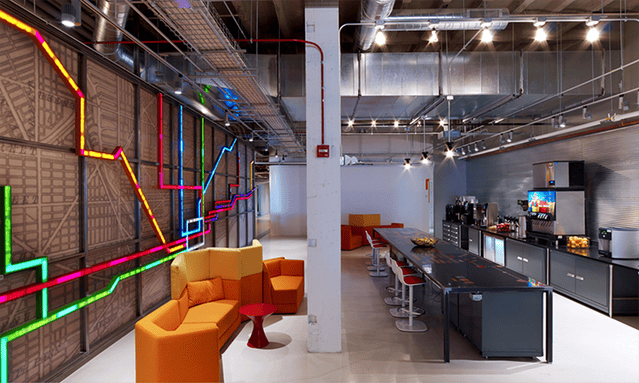 The Motorola Mobility Headquarters Relocation project has been recognized with two regional project of the year awards: ENR Midwest Best Interior Design/Tenant Improvement Project and CoreNet Chicago Project of the Year. The new headquarters, located in Chicago's historic Merchandise Mart, was completed by project manager CBRE, architect Gensler, general contractor Skender Construction, MEP engineer Environmental Systems Design and structural engineer Klein and Hoffman.
Both awards solidify Motorola Mobility and the project team as local leaders in design, engineering, construction and innovation. One of the largest tenant build-outs to take place in Chicago and the city's single largest leasehold since 2005, the project encompasses four floors and more than 670,000 square feet, including general office space, R&D laboratories and a rooftop terrace. The project also includes a 65,000-square-foot off-site manufacturing and production facility, Motorola Global New Product Operations (GNPO). With nearly 500 construction workers on site at any given time and over 2,000 employees relocated, the project was completed within an astonishing timeframe of 10 months. Motorola Mobility and Motorola GNPO were awarded LEED Platinum and LEED Gold Certification, respectively.
"Recognition from our industry really memorializes the team's achievements in a time when other great projects are being completed in and around Chicago," says Stephen Monaco, Head of Global Real Estate & Workplace Services, Motorola Mobility. "But some of the most rewarding moments have been from the Motorola employees who realize we did this for them and our company's future."
ENR Midwest's Best Projects annual competition recognizes outstanding design and construction in a range of categories. ENR recognized Motorola Mobility as best interior project on the basis of quality, innovation, safety, contribution to the community and the ability of their project team to overcome unique challenges. The project team was celebrated and honored at an awards breakfast on November 20 and was profiled in the November 17 edition of ENR Midwest. The project will go on to compete in ENR's National Best of the Best Projects Competition.
CoreNet Chicago recognized Motorola Mobility as a project in the Chicagoland area that demonstrated innovation in design, use of real estate, functionality and technology that has supported the end user's mission and contributed to its successful position in its market. The Motorola project team was recognized at the CoreNet Chicago REAL Awards Dinner on November 13.