Fulton Street Cos. and Skender Break Ground on 409,000-square-foot Office Building at 919 W Fulton Street in Chicago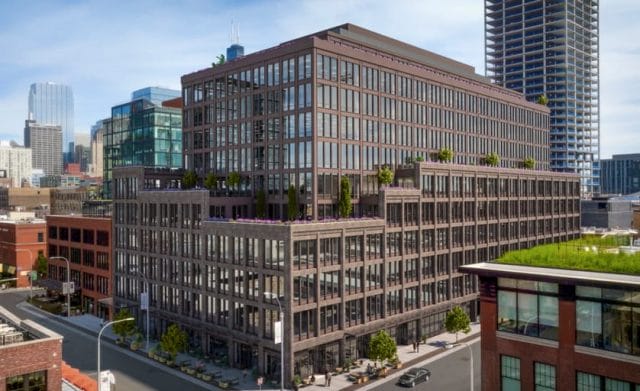 Skender joined developer Fulton Street Companies and community leaders today to celebrate the groundbreaking of 919 W Fulton Street, a new 11-story mixed-use office development in Chicago's Fulton Market neighborhood. The 409,000-square-foot project marks Chicago's first major new office development to commence construction in over a year.
The building's notable tenants will include Chicago-based real estate investor Harrison Street Real Estate Capital and a first-floor restaurant from the Gibsons Restaurant Group.
"Today's groundbreaking event is a win for Chicago," said Alex Najem, Founder and CEO of Fulton Street Companies. "We have assembled the very best organizations and companies, led by exceptional people, to remind the world that we can – and will – continue to build in downtown Chicago. Shanna Khan is the definition of exceptional people, and 919 W Fulton would not be possible if not for her belief in the project, her vision as the chief design officer and commitment as the lead equity investor with SNK Capital. As such, Fulton Street is grateful for Shanna, the leadership of Alderman  and Vice Mayor Burnett, our tenants and all of our partners for making this ambitious and remarkable development a reality for our great city."
The groundbreaking symbolizes Chicago's strength and robust character, and the new office building will rise as a testament to the city's enduring strength and vitality.
When completed in 2025, 919 W Fulton will feature expansive floor-to-ceiling windows, outdoor terraces on all sides, a rooftop with a lounge and bar, several coworking and conference spaces, fitness center with full locker rooms, and a full-depth, nearly football field-sized basement for 65-stall parking, ComEd vault and mechanicals.
The project pays great attention to air quality, material selection, energy efficiency, wellness and environmental impact, and is pursuing WELL and LEED Silver certifications. With two lobbies—one on Sangamon and one corridor connecting access between Fulton and Lake streets—the address of the finished building will be 217 N Sangamon.
"The Fulton Market neighborhood is a Chicago treasure," said Shanna Khan, Founder and President, SNK Capital, the lead equity investment partner for the project. "The energy and vibrancy are evident the moment you arrive and, once you've visited, it becomes a destination. That's why I'm passionate about 919 W Fulton. For all that Fulton Street already offers, maybe its greatest asset is its potential. Today, with 919 W Fulton, we are no longer talking about what's possible … we're making it happen."
Skender will be bringing in all new utilities and connecting the new parking garage to the adjacent, existing lower-level parking structure at 210 N Peoria. The basement will feature a sophisticated, full-perimeter earth retention system to structurally support the excavation. Given its location adjacent to the El tracks, the project also required close coordination with the Chicago Transit Authority.
"This development has been more than four years in the making," said Alex Panici, Vice President, Skender. "We are thrilled to get to work bringing this beautiful development to fruition. The office building with high-end finishes and curated amenities is what today's companies want. Our team is proud to bring this prominent office building to the nation's fastest-growing urban office submarket."
Financial backing for the project was secured through strategic partnerships with Bank of the Ozarks and Manulife with development services by Fulton Street Companies and JDL Development, and SNK Capital assuming the pivotal role as the lead equity investment partner. Skender is serving as general contractor; FitzGerald Associates Architects is the architect of record with Morris Adjimi Architects providing the initial design; Thornton Tomasetti is the structural engineer; Eriksson is the civil engineer; Syska Hennessy Group is the MEP/FP engineer; and site design group, ltd. is the landscape architect.