Five Skender Projects Earn "Coolest Office" Recognition by Crain's Chicago Business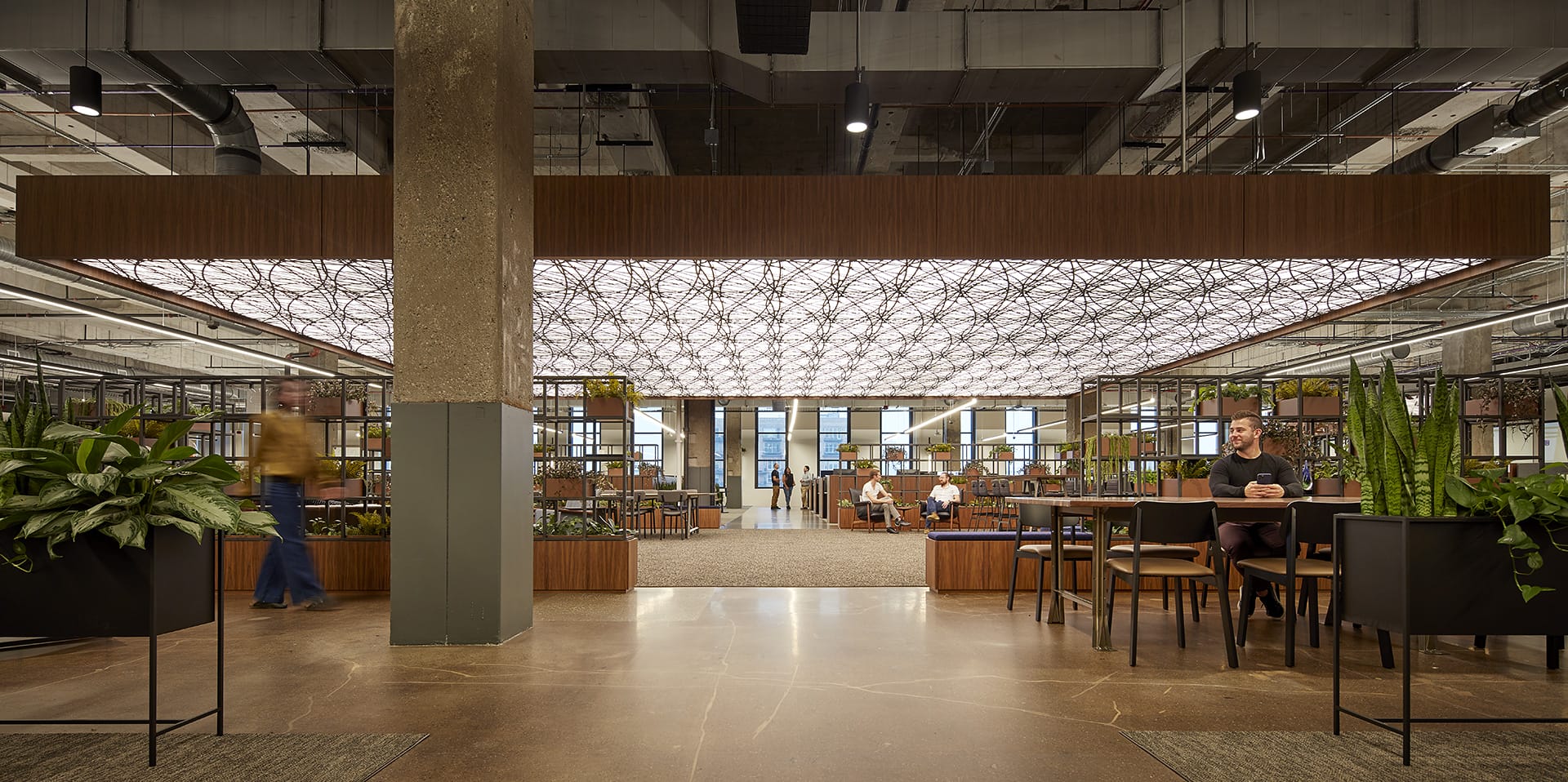 This week, Crain's Chicago Business announced its selection of the coolest offices and coolest singular features that stand out from other workplaces. Five Skender projects earned recognition.
Coolest Offices: TrueBlue
TrueBlue's 80,000-square-foot headquarters was built out in the redeveloped Old Post Office. The office's coolest feature, according to Crain's, is a massive ceiling installation, or architectural cloud, which doubles as a sound dampener and defining focal point. Other highlighted attributes include the lobby's "unmistakably laid-back vibe with its cognac-colored leather chairs and floor-to-ceiling steel frame panels," as well as brick, wood, leather and steel features throughout.
Best Staircase: CCC Intelligent Solutions
CCC Intelligent Solutions' radiused staircase is a stunning centerpiece in their new headquarters at 167 N Green Street in the Fulton Market neighborhood. The distinctive stairs connect the ninth and eighth floors of the 140,000-square-foot workspace, which was designed and built to support the company's growth and innovative culture.
Best Rooftop Space: Hazel Technologies
Hazel Technologies was one of the first tenants to move into 320 N. Sangamon Street, a new 13-story office building in Fulton Market with impressive rooftop views. The two-story, 54,000-square-foot lab and office build-out was one of Chicago's first office-to-lab conversions with several infrastructure customizations, specialty equipment and finishes.
Best Custom Mural: Stream Realty Partners
Stream Realty's mural is a kaleidoscope of patterns, hand-painted by Chicago artist Kate Lewis.
Best Game Room: iManage
iManage's game room features board games, video games, pingpong and countertop taps. "The geometric lights on the slatted ceiling add a playful touch" to this fun, collaborative work environment.
"The personality of our clients shines through their workspaces," said Andy Halik, Vice President, Skender. "We're grateful for the work, the partnerships, the recognition and all the hard work that made these offices remarkable." Click here for the full list by Crain's Chicago Business.