Finding the Façade: American Society of Anesthesiologists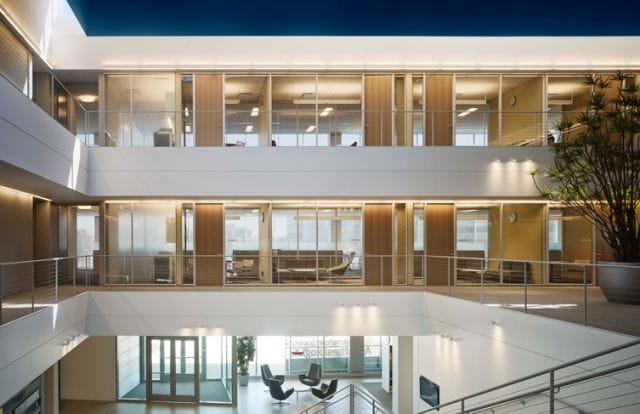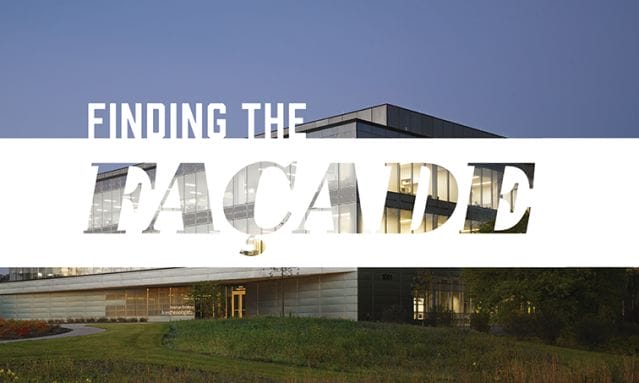 Elevation 006
The new headquarters of the American Society of Anesthesiologists is calmly situated among an expanse of office buildings in Schaumburg.  But the element of surprise makes this building wildly different than a typical build-to suit: The exterior's mix of metal and glass is stunning from the outside, while the sophisticated open interior environment invites anyone to explore the fascinating profession.
Aesthetics aside, the goal was to celebrate the history of anesthesiology and showcase the association's brand as a community of contemporary, forward-thinking medical professionals. The organization's previous Park Ridge location, an assemblage of leased spaces, didn't have room to bring its members together for events and conferences. And its collection of rare and vintage books, artifacts, equipment and tools—some hundreds of years old—wasn't readily accessible for viewing.
"Our main goal was a stand-alone building that could service all ASA's needs, but we wanted that 'wow' factor, not a plain precast building," said Randy Bartosh, vice president at Development Resources in Chicago and ASA's project manager.
The result more than doubled ASA's existing space: A sleek three-story, 77,000-square-foot structure with a glass and steel façade on a wooded site overlooking a lake. Inside, a dramatic atrium with monumental stair is capped with a skylight, clerestory windows and glistening LED lights. Located on the first floor are a 250-seat conference room/auditorium equipped with advanced communications technology, cafeteria, and climate-controlled, moisture-resistant Wood Library-Museum of Anesthesiology. The upper floors house staff offices.
"The grand stair serves as a kind of connective tissue between the membership spaces and the staff spaces," said architect and project manager Adam Quigley of Tilton, Kelly + Bell Architects in Chicago.
Ground was broken on the 12-month project, but several weeks of pre-planning assured the job progressed smoothly and on time. It was clear that Building Information Modeling (BIM) would be necessary to lay out the critical systems and infrastructure of the building, and collaborative schedule planning would ensure that every detail would be covered. But one critical question remained: What materials should clad the building? Glass and metal were givens, but specifically which glass and which metal? How should they be connected to each other and to other building elements? What type of support system is needed to prevent the metal sheets from "oil canning" or buckling?
"An architect can have an idea and put it on paper," said Skender's project manager Ramiro Trevino. "But you don't really know what it's going to look like until you see it in the exact location and how it interacts with the surrounding buildings, the other materials it comes into contact with, and the sun at different times of the day. All those variables need to be taken into account. Other buildings with the same glass won't always look the same in different locations."
"It was very important to get this right," said Quigley. "Even though it was a stainless steel base with a glass curtain wall, that simplicity demands a high level of engineering precision. Many systems are coming together, and there is no other visual noise to mediate errors. If you have a complicated façade like masonry construction with a lot of ornament, the eye tends to glance past or forgive issues of alignment. But an imperfection on a metal panel can draw attention pretty quickly."
In search of definitive answers, the project team took the unique step of building a nearly full-size, on-site mock-up, 10 feet wide by 30 feet high. Mock-ups are made from time to time, but they usually are much smaller. This one was so large, a building permit and foundation were required. Every element, from foundation to parapet, was replicated.
For two months the team tested numerous materials and constructions on the mock-up. They tried different colors of glass and considered zinc, aluminum and stainless steel as well as an assortment of finishes. They looked for signs of deflection and assessed their connections and supports.
"One particular type of support system could be OK for stainless steel, but aluminum is more fragile, so your substructure would have to be different," explained Trevino.
The final choices were to clad various sections of the first floor with stainless steel paneling, perforated stainless over glass, and clear storefront glass. The second and third floors were clad with a low e-coated glass. Spandrel glass separates the floors and wraps the mechanical penthouse while a glossy black metal parapet outlines the roof.
"Working within the design parameters and tolerances, stainless steel proved to be the most advantageous option," said Trevino. "It was more solid and less expensive than the other material options we explored.  We were also able to get the materials from the United States, which meant shorter lead times."
"This process helped us determine that the stainless steel needed to be embossed," said architect Michael Kelly, a TKB principal. "It gives additional rigidity to the material, and it refracts the light more evenly across the panel so that any glare is muted."
Another big decision was how to hang the curtain wall. A time-saving unitized system was employed rather than building a framework, installing glass panels and caulking the seams. The manufacturer, Wausau Window and Wall, pre-fabricated and pre-glazed two-story sections that were delivered to the site and expeditiously set in place via crane.
"We were able to limit a lot of our field time by spending more time in the shop," said Sean Hill, an associate at Elmhurst-based Glass Solutions. "Field labor is a big item in our industry. If you can reduce field labor in any way, you can reduce your costs."
Pre-fabrication translates to a safer jobsite because both the amount of materials and the number of people working with them are lessened, said Trevino.
These efficiencies and more wrapped up the new headquarters as promised. They also helped assure the client that the building would perform well in the future, and the exterior would not lose its elegant flair over time.
"The curtain wall and skin investigations certainly were value-driven," said Kelly. "When you do a building that is unique, costs tend to go up. The team worked diligently to make decisions that made sense while making a consistent effort to stay within the budget."
Bartosh agreed. "Even with a tight schedule and all the challenges that took time to get resolved, Skender stepped up to the plate and presented solutions in a great way," he said. "They bent over backwards and took extra steps to make sure that the building would represent ASA well now and into the future."