Fast Growth: BigMachines, Inc.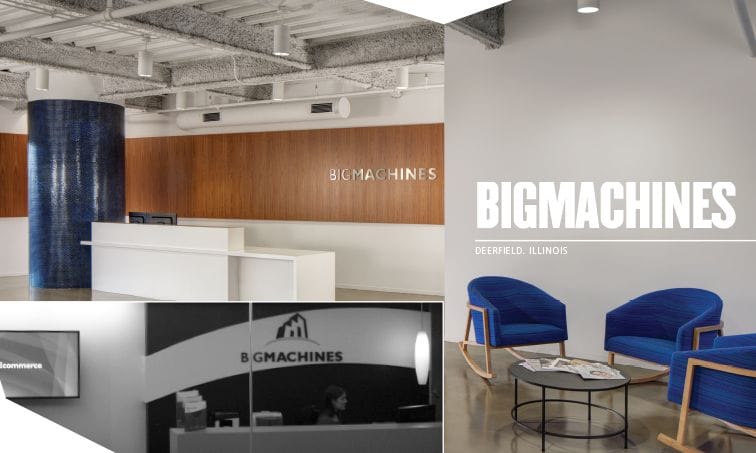 Elevation 004
In a little over a decade, BigMachines, Inc. has grown fast. What began as an internet start-up founded by MIT graduates in 2000 has transformed into a global company that has doubled its business year over year. Headquartered in north suburban Deerfield, BigMachines knew that their current office location was a temporary solution. When it was time to renovate and expand their current 55,000 square foot space, it simply didn't make sense to go beyond the budget of the interior tenant allowance. But coming up with smart and targeted solutions to create an environment that would attract some of tech's top talent was still a must.
The company's growth created some challenges from a cultural and operational standpoint:  It wasn't uncommon for patchworks of suites and spaces to enlarge as needs arose. They were adequate but not particularly consistent or cohesive. According to Sean Fallon, BigMachines' chief operations officer and chief financial officer, the renovation offered an opportunity to step back and really think about how space could transform the company's work environment.
"We wanted a large, open space that would encourage collaboration and innovation among our employees," said Fallon. "It had to invoke a modern warehouse feeling, like you would expect to see in a leading tech company. We recruit a lot of young engineers and technologists, and we wanted to create a place where they wanted to work."
But the budget for the job was tight. To make the dollars work, the project team scrutinized the design plan over and over to weigh every cost against every benefit. Many compromises and concessions were made.
The client elected to focus the major portion of the budget on three key areas that most supported its goals: The lobby, the café and employee work areas.
The lobby was critical because it visually introduces visitors to the company's high-tech, high-energy culture—it had to make a strong impact. To do that, the ceiling was opened to expose wiring and ductwork and the concrete floor was polished to a shine. The primarily black-and-white palette was warmed by occasional punches of color and a wall of wood paneling behind the reception desk.
The new café is spacious and comfy, roomy enough for communal gatherings like the free luncheon provided by the company every Friday. Game tables invite moments of relaxation and camaraderie.
Major demolition was required to make way for clusters of employee workstations. These low-partitioned cube-and-seating arrangements facilitate face-to-face communications while their modular configuration allows for flexible expansion. In addition, huddle areas and a large meeting room enable teams of all sizes to collaborate as needed.
Along the way, the bottom line was a constant reminder for the project team to be efficient and cost-conscious. Every wall that had to be torn down and every foot of concrete that had to be cored was questioned. Each door, light fixture, hardware set and piece of furniture was shopped.
"Skender understood our budget, and that was a big deal," said Fallon. "They gave me a lot of choices, which helped me make the trade-offs I had to make."
Some of the much-desired items turned out to be far more expensive than expected. The client's original vision included open ceilings and polished concrete floors throughout the space. However, neither was a simple matter. Tearing out the existing acoustic ceilings to expose the structure meant removing, re-aligning and re-supporting ductwork, lighting fixtures, sprinkler heads and other infrastructure. And wall-to-wall carpeting was more economical than prepping, staining and finishing the raw concrete floors. After much review, the client opted for an exposed ceiling in the lobby only and for concrete floors in the lobby and café. Faux concrete was also used for decorative accents.
"We looked at everything," said Fallon. "We tried to be very disciplined about choosing finishes and making changes. We made many trade-offs no one is even aware of, but we did them."
A few of the trade-offs came at additional cost, like the sidelights that frame doors to the perimeter window offices. The client had eliminated them from the original design to cut cost. After construction began, the realization set in that the interior floor space, where the greatest mass of work stations would be located, would receive insufficient natural light. The sidelights were reincorporated.
Construction took place over a fast-paced 11 weeks. Now settled into its new headquarters, BigMachines is well-poised and well-appointed for continued growth.
"It turned out very well," said Fallon. "We have an environment that is far more collaborative and consistent, and our employees are much more in touch with each other. We got what we wanted."