Down to Detail: NorthShore Place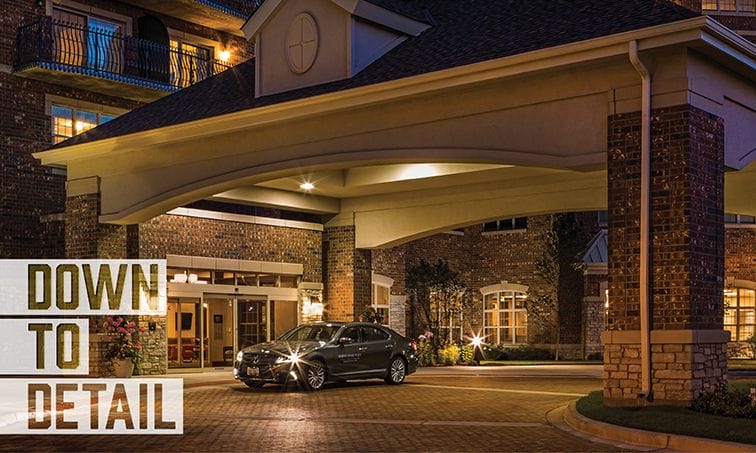 Elevation 006
When Senior Lifestyle Corporation set out to develop its first Signature Collection community in the country, they knew that architectural details and innovative amenities would be key to achieving new heights of luxury.
"We knew we wanted something first class," said Jerry Frumm, executive vice president at Senior Lifestyle. "We wanted it to be very warm and comfortable for our residents, who have a level of sophistication that reflects the market we are in."
While many visitors have compared the Northbrook assisted living and memory care community to a high-end resort or hotel, Frumm prefers the analogy "country club."
The 175,000-square-foot, five-story, 156-unit, all masonry North Shore Place welcomes residents and their guests with a spacious marble entry, grand spaces, extensive cherry millwork and custom built-ins throughout. Among the common areas are a bistro and coffee shop; restaurants for casual and formal dining; movie theater; beauty salon; library; therapeutic fitness and exercise center; and craft and game rooms. While all units are fully licensed for assisted living, 116 units are appointed with full kitchens featuring stainless steel appliances, granite countertops and in-unit laundry. The remaining 40 units, designed specifically for residents requiring memory care support for Alzheimer's and other forms of dementia, are located on the second floor.
"A lot of thought went into the layout and spatial planning," said architect Jon Lindstrom of SAS Architects and Planners in Northbrook. "There are many opportunities for personal interaction, both indoors and outdoors. Some are private and secluded, and others are more open."
Ground was broken in February 2013, but weeks of pre-planning took place first. North Shore Place was a complex project entailing an irregular footprint, numerous specialty spaces and more than 25 trade partners. The client established a budget but the interior design was not complete and the finishes had yet to be selected.
Working around these challenges and completing the job on time would require intense coordination. The project team used Building Information Modeling (BIM) software to virtually work out every detail of the structure and critical systems before construction began.
One enormous task was coordinating the placement of miles of wiring, piping and ductwork running horizontally and vertically through the building. That's where BIM came in. Each subcontractor devised a schematic, and the schematics were interpreted into three dimensions and compared.
"The first time through, we had more than 500 conflicts on a single floor," said Skender superintendent Brian Ribordy. "The HVAC sub wanted to put something in a certain spot, and so did the fire suppression sub. Or they would be running into rebar. We had to work out the details."
"With a cast-in-place concrete structure, you have to know where the rebar is, and that reinforcement has required clearances should a contractor need to make a core or penetration," said Lindstrom. "It gets pretty complicated."
Later, trade partners used GPS locators to find the exact spots to penetrate the concrete decks for their particular jobs.
"With a traditional system, you have laminates or vellums on a light table, draw everything in 2D, and then perform the layout with tape measures," said Skender project manager Blake MacGregor. "It takes an infinite amount of time. With BIM, we were laying out 30,000 square feet of floor plate in three days."
BIM's three-dimensional capabilities also proved valuable when laying out various components, equipment and distribution lines in the mechanical room of the basement, he said.
"When anyone questioned why we thought something wouldn't fit, we had it visually ready in 3D form," he said. "It ended those philosophical discussions."
To help schedule each day's work, Skender relied on the expertise of their trade partners to plan schedules in great detail. They provided input as to the amount of time they needed, what had to be finished before they could start and at what points they could work alongside other trade partners rather than independently.
"It's easier to hold them accountable if they help make the schedule," said Ribordy. "Instead of dictating the plumber's schedule, we would ask him how many days he needed in order to complete his work.  When you approach the trades and actually ask for their input, they are more committed and can better manage their manpower."
"Brian was very attuned to the scheduling process," said MacGregor. "He was always playing out milestones. He would say, 'We have to start this activity on this date,' and then work backward to see that the shop drawings, procurement, reviews and everything was completed in time. That really drove the production of the project."
Not finishing on time could potentially damage Senior Lifestyle's brand, he added.
Scheduling was especially critical when it came to completing the masonry before the second winter set in. The building footprint, far from rectilinear in shape, was a stylized "S" with many ins and outs and an extension on one side. The decision was made to build vertically in batches, which were determined by the scale of the scaffolding, and to circle the building.
"When you're working in small batches, you're able to focus on that piece rather than monitor 200 people across a huge building," said MacGregor. "Everyone is in one spot."
"It also allows the trades to have consistent manpower," said Ribordy. "Instead of 10 laborers today and 25 tomorrow, there's no roller coaster. They appreciate that and want to keep working with you."
And even though interior design decisions weren't finalized until early spring of 2014, advance planning gave trade partners—particularly the electrician and finish carpenter—enough notice to organize and reallocate manpower for critical path work.
Many other efficiencies helped move the project through one of the worst winters and one of the wettest springs in Illinois weather history. North Shore Place was delivered to the client two weeks earlier than anticipated.
"Skender really stepped up for us and did a great job," said Frumm. "They came to us with great solutions in terms of how quickly they could get the building done, and they hit every step along the way."
"Value starts with the process and the team," said Lindstrom. "When you have a team that can work together toward a common goal, there is value. In addition, being responsive when issues come up or questions need to be answered, that creates value. Not only does it keep things moving, it creates trust along the way."