Community Health Centers: Affordable Care Act Spurs Growth, Centers are up for the Challenge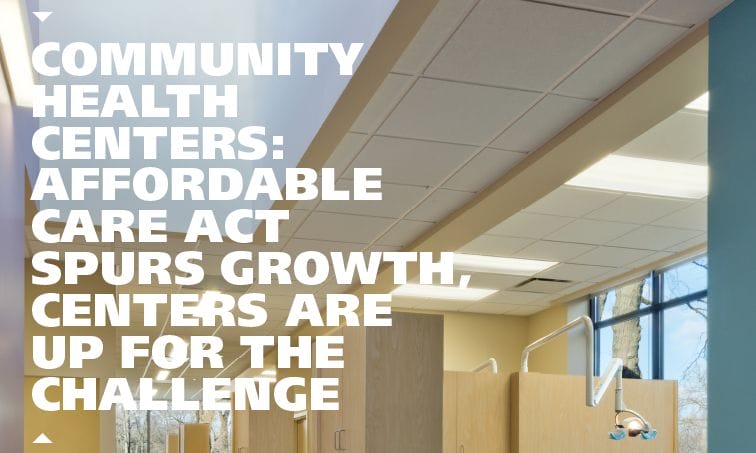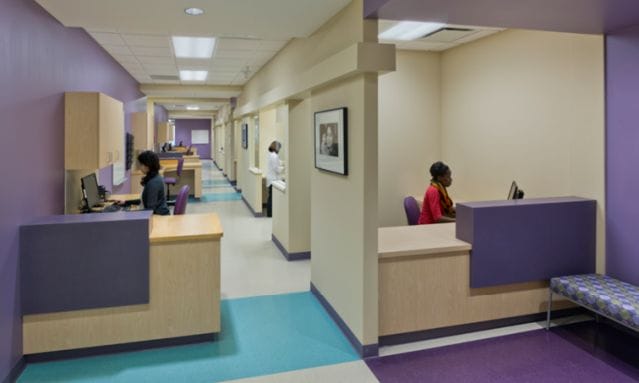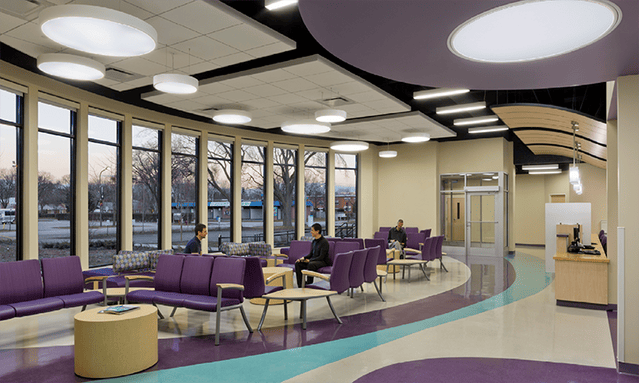 Elevation 005
As the Affordable Care Act continues to unfold, this landmark legislation is providing millions of Americans with better health and better life quality.
It also is changing the delivery of health care and, in turn, the design and construction of health care facilities. A growing movement is replacing the traditional model of testing, diagnosing and treating the (sometimes advanced) ailments and diseases of patients with a holistic continuum of care that focuses on keeping people well in the first place.
This new focus has led to the rapid growth of community health centers such as those of the Chicago-based Erie Family Health Center. The nonprofit agency, founded in 1957, provides comprehensive primary medical, dental and behavioral health services to underserved communities in the city and suburbs. It has grown to 12 centers, with two more—one in Waukegan and one in Mundelein—under construction. At Erie, no one is turned away because of inability to pay.
"The biggest impact ACA has on us—and we are thrilled about it—is we believe more of our patients will become insured, and more patients will be seeking primary care," said Amy Valukas, Erie's vice president of planning and programs. "We very much want to be there to serve them."
The most recent addition to the agency's portfolio, which opened in November 2013, is the Erie Evanston/Skokie Health Center, a cheery, light-filled 16,000-square-foot facility transformed from a circa 1940s manufacturing plant. Key areas include a collaborative care-team center, clinical spaces, dental suite and an education center with a demonstration kitchen.
"ACA and health care reform, which are driving more individuals to be insured, are going to create the necessity for a greater number of centers to provide primary care and other ancillary support services," said architect Casey Frankiewicz, principal and director of health care practice at Chicago-based Legat Architects. "This is a very exciting time to be working in health care."
Meeting those comprehensive community needs requires thoughtful planning that is also sensitive to construction budget restraints, said Valukas.
"Of course, everyone wants to be good stewards of their money, and we do too," she said. "We want to make sure we best use every inch of space we have and maximize every dollar we get. The fact that some of our patients may be uninsured does not mean they deserve to be seen in anything less than a high-quality facility, just like anyone else."
The first step is finding the optimal location, which varies from community to community. Centers must be conveniently located, which generally means easy access to public transportation. They also must have adequate infrastructure to support the clinical needs of the center. Quite often, because of the lack of vacant land for new construction, existing buildings will have to be gutted and retrofitted.
"Every location is unique to the search," said Bill Conopeotis, president and founder of ConopCo Project Management in Hoffman Estates. "Older buildings are clearly more challenging, but it's a matter of what real estate you can find in that market, whether you can buy or lease, and what will be the best fit for Erie."
Repurposing an existing building often meshes well with a center's desire to be a vital community partner. For example, the Waukegan facility is a former bank, and architects have incorporated some of its more prominent architectural features into the new design.
"We try to capture the personality of the community," said Frankiewicz.
"Existing buildings may not all be architectural gems, but they are landmarks in the community," said architect Alan Bombick, a Legat principal and director of corporate/commercial practice. "When those things disappear, it becomes disruptive. When they take on new life, it strengthens what is already there."
The interior environment replicates sentiments of integration and more, said Sylvia Kowalk, Legat's director of interior design. In Evanston, where the community demographic is diverse, the color palette is bright and joyous—swaths of purple and flashes of turquoise against a ground of white and tan. An attractive children's play area is stationed near the waiting room, and patient rooms are oversized to seat accompanying family members. The ambience more closely resembles a fine hotel rather than a hospital.
Near the front entrance is the education center equipped with a demonstration kitchen, a feature that presents opportunities for community outreach. The center hosts a calendar of wellness programs, events, such as new baby care and food preparation for a diabetic diet. It also invites local groups to use the space for their activities.
"Lifestyle is a huge driver for many of the health issues that impact patients," said Valukas. "For us to be able to work with them in culturally relevant ways like learning how to cook their favorite dishes in a healthier way is a great benefit."
Subtle design elements facilitate improved patient care as well as health care reform measures. And technology—in the forms of electronic record-keeping, laptop computers and wireless connectivity—plays a huge role while conserving space. Care-team centers keep staff and providers located closely together, where they can easily collaborate on patient care. Their work stations are separated by low walls or glass partitions, so they can stay tuned to their surroundings and maintain a degree of privacy. Sensitive conversations are held at strategically placed consultation rooms. Members of the care team move between patient rooms rather than requiring the patients to traverse, and they carry their laptops with them. Patient rooms are laid out so providers can make chart notations while maintaining eye contact, not while facing a wall. Numerous touch-down areas allow them to comfortably stop and make notations or look up information while either standing or sitting.
"The design is easier on the patients and is more caring for them," said Kowalk. "It enhances the healing experience."
"We are designing facilities for what we believe is going to be our new delivery model," said Valukas. "It is about integrated team care, and making sure that comprehensive teams are working in a coordinated and seamless way to keep patients healthy and out of the hospital."