Chicago office designers envision post-pandemic workplaces that function and feel like neighborhoods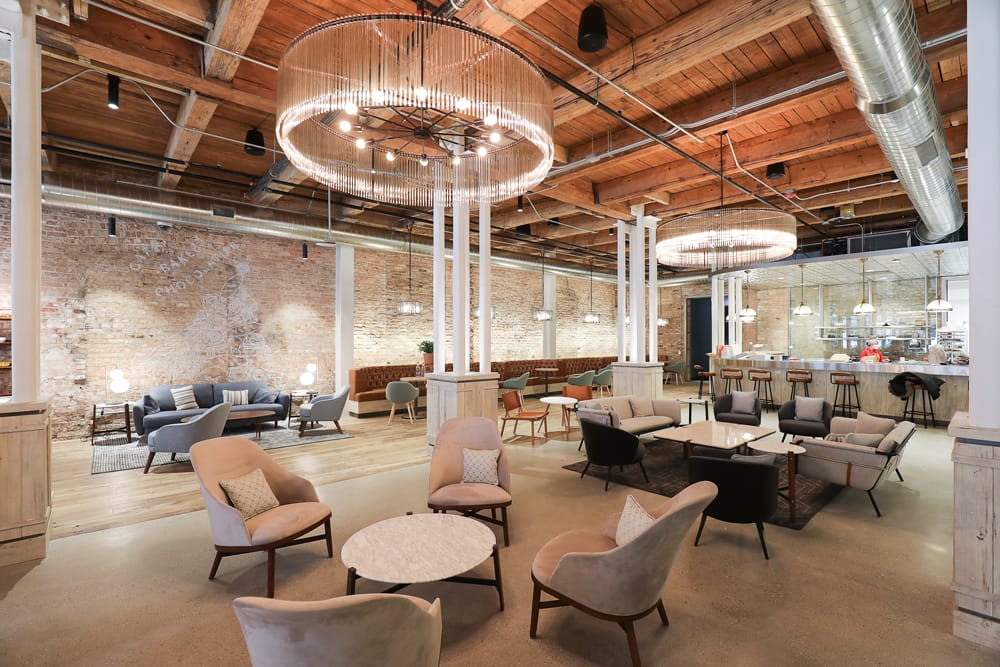 What will the post-pandemic office look like when workers return to downtown Chicago? One only needs to take a walk around their neighborhood to get an idea. At least this is what some top office interior designers and builders are saying as business leaders finally start preparing their strategies for bringing employees back downtown.
But another key theme that will come about from the tidal wave of the pandemic, and after spending more than a year working from home, will be the idea of control.
Having some semblance of control over the work environment will allow employees to feel safer, and when the workforce feels a deeper sense of security, then we can begin to move forward and get back to focusing on in-person collaboration and fostering company culture, Eric Gannon, a principal at the Chicago office of the global architecture firm Gensler, believes.
"The expectation now is that you're returning to something different, and you're returning to something that you have some control over," says Gannon. "So, I think what that means is how you reserve or how you gauge the intention to what you need, and there's an expectation that the space is flexible to us as individuals and what we might need to support our work."
In addition to a flexible, hybrid model of work where employees can choose to work from the office or at home, there's going to be changes to the office that give employees a similar sense of control that they have at home, Gannon adds. For example, allowing employees to directly adjust lighting at workstations, changing the temperature, or forming a workplace "bubble," gives more autonomy to choose what feels most comfortable.
This focus on user control and autonomy in the workplace isn't entirely new, but it's something that's being kicked into high gear because of the pandemic. And in many ways, it can also be viewed through the larger lens of the mainstream focus on wellness and fitness in recent years.
And then in terms of the actual layout and programming of any particular office, each company will have different needs, but the industry is moving away from a straight-forward open office environment to one that's still largely open, but also intentionally planned.
"The open office was a product of real estate efficiency," says Gannon. "We were crunching down desk sizes to fit more [people] and I think we believed for a while in the energy that was created in the ability to turn your chair around as a benefit to culture and to the work environment."
Instead, the antidote to the current workplace conundrum in a post-pandemic world might be the office "neighborhood," or a layout that looks towards urban planning for inspiration.
"When you think about a workspace from an urban planning construct, you've got the main plaza space that's more communal and you've got smaller, more intimate type spaces," Gannon says of the new way of thinking for office design. "So, I think that the modular approach to the neighborhood is a way to achieve flexibility but also prepare for ongoing change in the short term."
Beyond the programming, the neighborhood concept is also different in the sense that it's not a set-it and leave-it approach to office design, Gannon adds. Designers will have to continue periodically checking in with clients about what's working and what's not in order to make adjustments and changes to the office to better foster collaboration and productivity.
"Generally speaking, flexibility is more about how a business behaves rather than the space it offers," Halik says of the oft-discussed theme of workplace flexibility. "The space that companies are offering are still very much driving what they used to be about, if not more so now, which is about culture, collaboration, and succeeding through this together."
Halik says that there will certainly be a return to the office as companies have learned of some major caveats of having entire teams and staff working from home exclusively, including lower employee satisfaction, retention issues, and a sense of being disconnected or disengaged from colleagues, as well as the company's mission and culture.
And regardless of office location, type, or layout, the big question that employers and office designers need to spend more time thinking about is what the office offers that working from home doesn't.
"I've heard a lot of people forecast that lower density buildings or build-to-suit single occupier situations are going to be the hottest office properties out there, and I do think that demand for those types of buildings will go up," Halik says. "But the reality has more to do with answering the question: What does the office provide that working from home does not? The buildings and the neighborhoods that answer that the best will be the ones to provide the most opportunities for people to be together, period."
Afterall, there is an element to working in an office downtown that's maybe not as easily defined — the sense of being part of something bigger than oneself.
Just the simple act of going into the office over the next couple of months may be enough for many workers to feel better about the changing world and workplace.
"I've been going downtown more, and every time I do, the anxiety wears off a bit of what it's going to be like," says Eric Gannon about heading into Gensler's office in The Loop. "So I think that there is a very emotional, human piece of just doing it and getting used to it again."
This article originally published in the April 2021 issue of Illinois Real Estate Journal.