Chicago Is A Lab Sciences Desert. But What Kinds Of Labs Does It Need?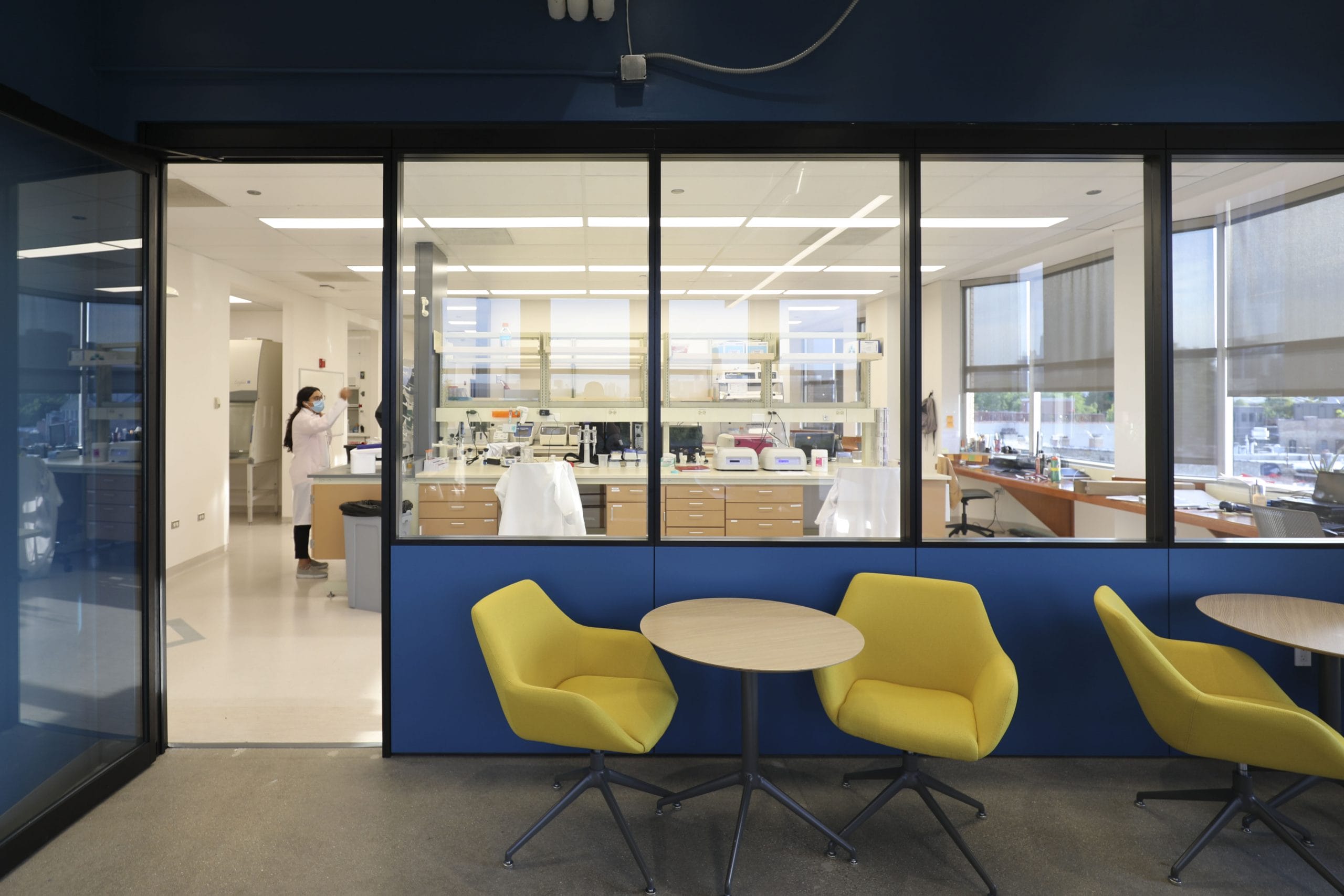 Chicago is no slouch when it comes to lab sciences. The Chicago region boasts the headquarters of pharma giants Abbott Laboratories, AbbVie and Baxter International. But with lab spaces scattered across the suburbs and spread around the city's research universities in Evanston and Hyde Park, the city lacks a centralized laboratory cluster like those in Cambridge and San Francisco.
Developers have recognized the void in the market and are pouring money into building new offices and research facilities and converting old structures into labs, said Skender Vice President Jeff Janicek, who focuses on healthcare and lab construction.
But creating a lab space isn't as easy as bringing a few microscopes into a corporate office. Without the right guidance, first-time lab developers may end up building a kind of lab entirely different than what tenants are asking for.
"People tend to say 'life sciences,' when they really mean 'lab sciences,'" Janicek said. "A chemistry lab looks entirely different from a biology lab, which looks different from a pharma lab. If developers go in with a one-size-fits-all mindset, they are not going to make it far with their lab tenants."
Because the Chicago development market does not have much experience building labs, developers will sometimes propose sites that don't make sense for the lab tenant market, or which aren't appropriate for labs.
Janicek described how one client arrived with a landlord, a broker and what they thought was a bulletproof plan to put a chemistry lab on an upper floor of a building in the Loop. Janicek had to inform them that because of the volume of chemicals it would handle, the lab could only be on the first or second floor of the building. Plus, the building did not have the mechanical systems or vertical access shafts in place the tenant would need to retrofit the space.
After finding the right space, developers also have to be knowledgeable about what sorts of improvements each type of lab user will need. Chemical researchers usually require more fume hoods and sinks, while life sciences researchers may need more specialized temperature and humidity controls to keep samples safe. Biology researchers often need extra room for negative air pressure chambers and changing rooms to keep nasty parasites and spores from escaping the lab.
The key to successful lab construction and renovation projects, Janicek said, is to consult very early with the intended tenant about what their needs are and to consult with an engineer and contractor that can make those needs a reality. When it comes to retrofits, pre-construction will likely begin even before a property has been sourced.
"Sometimes the victory is in not wasting money," Janicek said. "When developers involve us in the process early enough, we can steer clients away from poor choices, and we can propose other choices that will create a better, more affordable project."
While researchers typically spend between 20% and 40% of their time in the lab, they also spend a surprising amount of time at their desks or in conference rooms, Janicek said, and developers that don't set enough room aside for traditional workspaces may not see many nibbles for leases.
Sourcing a location for a new lab space is also a challenge. More and more, Janicek said, potential tenants in Chicago are former grad students looking for lab space to continue their research or launch a startup and they don't want to have to commute out to the suburbs to go to work. For that reason, more developers are looking for potential lab renovation spaces in neighborhoods like Lincoln Park, the West Loop and Fulton Market.
Most of the buildings in these neighborhoods will have trouble being converted to lab space, Janicek said, but there are a select number of sites that could be promising. Former healthcare facilities and even warehouses that were previously built for cold storage often have the infrastructure they need to be renovated into lab spaces, including piping systems, low ceilings and thick walls.
Janicek pointed to 2430 North Halsted St., a 120K SF commercial lab space and the first project in Sterling Bay's life sciences initiative, The Labs. Exicure, the first tenant for the lab space, was growing rapidly and needed space to expand. The team at Skender was able to reposition some of the building's existing infrastructure, delivering the lab space a mere four months from the initial idea to relocate and expand.
As the race for coronavirus therapies and a vaccine continues, Chicago is feeling the immediate crunch for lab space, but Janicek said an investment in more research facilities would also ensure Chicago remains a destination for lab sciences in the long term.
"The need for research space has been emphasized by the pandemic, but it's always been there," Janicek said. "The real estate community needs to try to give young scientific talent from Chicago a reason to stay close to home."
—
This feature was produced in collaboration between the Bisnow Branded Content Studio and Skender, and was first published by Bisnow.