Change is Good: Mercedes-Benz of Ontario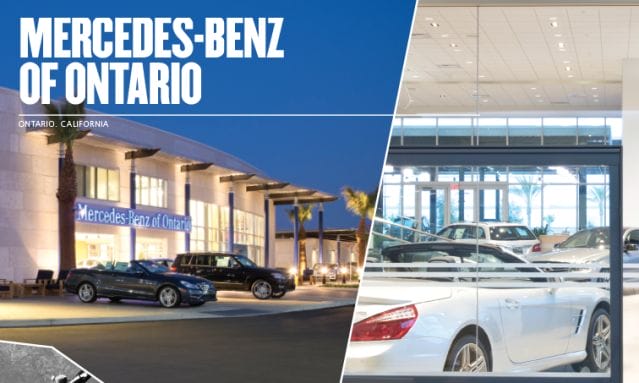 Elevation 004
Fletcher Jones Motorcars' philosophy is to provide the same high-end service and satisfaction one might find at a five-star hotel or resort. As one of the most successful luxury automobile dealer groups in the country, their brand is built on creating memorable experiences and lasting relationships with their customers.
With an established presence in California, they saw an opportunity just east of Lost Angeles in the San Bernardino Valley. The Inland Empire, an emerging upscale metropolis, boasted an international airport and an interstate highway. But the area did not offer much in the way of public transportation. It was an ideal location to build a Fletcher Jones luxury automobile dealership: Mercedes-Benz of Ontario.
"The region was expanding; new developments in housing and retail were emerging at a healthy pace. The opportunity to have a presence and be visible just off the interstate was very attractive to us," said Keith May, president of Fletcher Jones.
The family-owned company is known for making no small plans when it comes to building dealerships, and this venture was no different. The 100,000 square foot facility focuses heavily on architecture and an inviting interior environment.  About a third of the space is devoted to sales and showroom areas, and the remainder houses the service department. The roof deck offers an additional 60,000 square feet for parking. Guest amenities at the Ontario dealership include a children's playroom, indoor lounge with business center, and an outdoor patio bordered by a soothing 120-foot linear water feature.
Construction was well underway when the client decided to make several major changes and upgrades. Among them were a massive LED sign and increased exterior lighting to catch the attention of drivers on nearby Interstate 10, the San Bernardino Freeway. Also, two free-standing buildings were added—another showroom area and a car wash, as well as a raised retaining wall and landscape enhancements.
These changes were not insignificant details. The car wash, for example, required greater site drainage and storm water management. A massive underground detention tank had to be installed to handle the run-off and meet municipal building codes. But an agile and collaborative project team quickly adapted and forged ahead.
Because the team members were assembled at the project's inception, they worked in tandem with each other rather than the sequential norm. Skender simultaneously consulted with subcontractors and other specialists while the design was being created to provide feedback on techniques, scheduling and pricing. The innovative and efficient process allowed construction to be started—or re-directed—even before the final plans are confirmed. Every player was viewed as an invaluable partner in the project.
The results were remarkable. For Fletcher Jones, the Ontario dealership was delivered without delay and the original budget was reduced, even with the many deviations from the original design.
"There was value in bringing a building team together at the project's inception. It not only brought all ideas to the table, it established a mindset that the end goal was to create the best product possible. It was challenging, but everyone from architect to contractor to subcontractor was personally invested in the end result," said May.