Building on Opportunity: Shop & Dine Northwestern Brings the Right Mix of Retail Offerings to the Healthcare Environment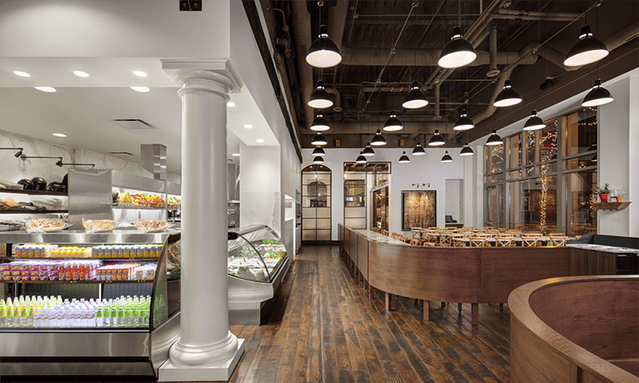 Elevation 004
When Northwestern Memorial Hospital set out to integrate shops and restaurants into its program four years ago, they discovered they were catering to a much larger population than the average hospital. A comprehensive study revealed that a staggering 13.5 million retail transactions were occurring in the medical campus' neighborhood of Streeterville each year. With nearly 10,000 employees, 67,000 neighborhood residents, and 3,000 hotel rooms within a five block radius, one thing became clear: It was time to capitalize on the opportunities right outside its doorsteps.
But retrofitting the hospital with an array of restaurant and retail options is tricky business, according to Northwestern Memorial HeathCare's Vice President of Real Estate Gina Weldy.
"Healthcare buildings are complicated places, and restaurants are a very different type of business and a very different type of build," Weldy said.
From the beginning, Northwestern Memorial wanted restaurants and retailers that would fit into their mission and vision of healthy, fresh and uplifting concepts. But finding the right mix wasn't always easy.
"We went out and found a team of retail brokers that started talking to our prospective tenants, and we found out that retailers and restaurateurs had been interested in our campus but didn't really know how to talk to us or find us," said Weldy. "We were able to tell them about changes we were making in the buildings that would make it more attractive for their uses."
The first of these changes included exterior doors that welcomed neighbors into the space without feeling like they were walking into a hospital. Northwestern Memorial's buildings are large, often taking up the full city block; and retail customers prefer to stroll into quaint shops and sidewalk cafés, Weldy said. Northwestern Memorial worked with research and design firm Kiku Obata & Company to create the retail program and the Shop & Dine Northwestern brand including storefronts on the first and second floors that would be welcoming, local, and strike a balance between retailers.
"The design goal was really to create a set of elements and materials that the hospital could use to complement its own interiors, but also to control the appearance of the retail," said Kiku Obata's David Leavey. "The wood and glass walls that make up the retail storefronts create a very recognizable pattern that patients, visitors and staff can clearly define as retail. It's a modern, clean, timeless framework that works within the context of the rest of the hospital."
The wood and glass storefronts are used by the second-floor retailers GRK Kitchen, Protein Bar, Pulse Gift Shop, Au Bon Pain and the newly opened Saigon Sisters. On the first floor, stores with windows to the street create a neighborhood feel that would welcome foot traffic and create a sense of being part of the city for visitors coming from within the hospital. One key retailer on the first floor was Barbara's Books, which, since the demise of Borders, has become the closest brick-and-mortar bookstore to the Magnificent Mile on Michigan Avenue. The space also attracted a very unique new tenant. Dan Rosenthal, Managing Director of Trattoria No.10 and owner of the Sopraffina Marketcaffè fast casual restaurants, was eager to share his product with the Northwestern Memorial community. But in addition to his traditional fast casual concept, he is also introducing an upscale small-plates concept restaurant called Cicchetti.
"Being a block off Michigan Avenue and having thousands of hotel rooms within two blocks and 10,000 employees in the building are all music to a restaurateur's ears," Rosenthal said. "It's all about opportunity, and we feel there's a lack of quality restaurants in this area, which makes it a great opportunity for us. Also, our concept of making environments that we have today better for people tomorrow aligns with the hospital's goals."
The 9,200 square foot dual restaurant initiative is the largest space in the Shop & Dine Northwestern project, and it includes a 2,000 square foot mezzanine, which wasn't included in the base building. Like many of the other restaurants, there were challenges with moving into the building.
"There is a fair amount of risk putting a restaurant in a hospital if the design and construction is not carefully managed and executed," Weldy said. "Some of the required infrastructure is rather atypical. When you're co-locating underground plumbing lines, black iron and linear accelerators, it can get interesting and it requires teams who are willing to sit down and work out all of the issues together."
That's where Skender Construction came in, according to Weldy. With experience building at Northwestern Memorial and building retail in general, Skender was able to bring together restaurant owners and the hospital to use Lean principles to plan and track daily activity. While start-up seemed like a slower-than-usual process to Rosenthal, detailed production planning was playing a big role behind the scenes.
"I kept asking when we were going to get moving and one day I walked in and there were nine lifts in the space. The mezzanine was completed in five days," Rosenthal said. "It was an amazing thing to watch."
With several spaces already completed, Weldy has noticed positive results popping up on the second floor.
"The second floor feels very different now. By adding retail, the general energy is very uplifting," Weldy said. "For patients and their family members, being in the hospital environment is stressful. They might be dealing with long-term illness and unexpected life events. Now these shops and restaurants are providing a place to sit down and have a bit of respite."
Making it Functional: Integrating Restaurants and Retail into the Healthcare Environment 
They say form follows function. But when the construction team started laying the infrastructural groundwork for Northwestern Memorial Hospital's new retail and restaurant spaces, they found that many spaces would need to take on a new form.
Retrofitting what was once hospital administrative space for retail and restaurants meant that many spaces needed new black iron duct work shafts to deliver fumes from kitchens to the outside, new electronic systems to support retail and restaurant computers and pipes to deliver natural gas for cooking to various sites.
"It wasn't possible for us to go in and verify all the existing conditions prior to construction starting," said Skender Senior Superintendent Mark Bussey. "We had to learn and discover that process as we went along as well as remain on schedule."
As each tenant moved, the team tracked the infrastructural conditions and found solutions as projects progressed. The team also ensured that each construction area was properly sealed off from the rest of the hospital so that dust and noise from construction wouldn't disturb doctors and their patients.
"We were really sensitive to areas where there would be patients and communicated the expected noise levels day and night," Bussey said.
In one case, the team had to reroute supply, return and exhaust ductwork from the first floor and decrease the size of the duct shaft to give restaurants on the second floor more space. The construction team found a unique solution that allowed them to do this without disturbing the existing first floor main lobby—they built scaffolding hanging down from the second floor into the mechanical shaft to get the work done, saving money and time and eliminating disruption to the hospital's main lobby on the first floor.
"We were able to devise the plan with our key trade partners and then propose it to the architect and engineer," Bussey said.