Bisnow: 'I Think It Can Change Lives': How Skender's Lisa Latronico Is Building A Diverse Construction Workforce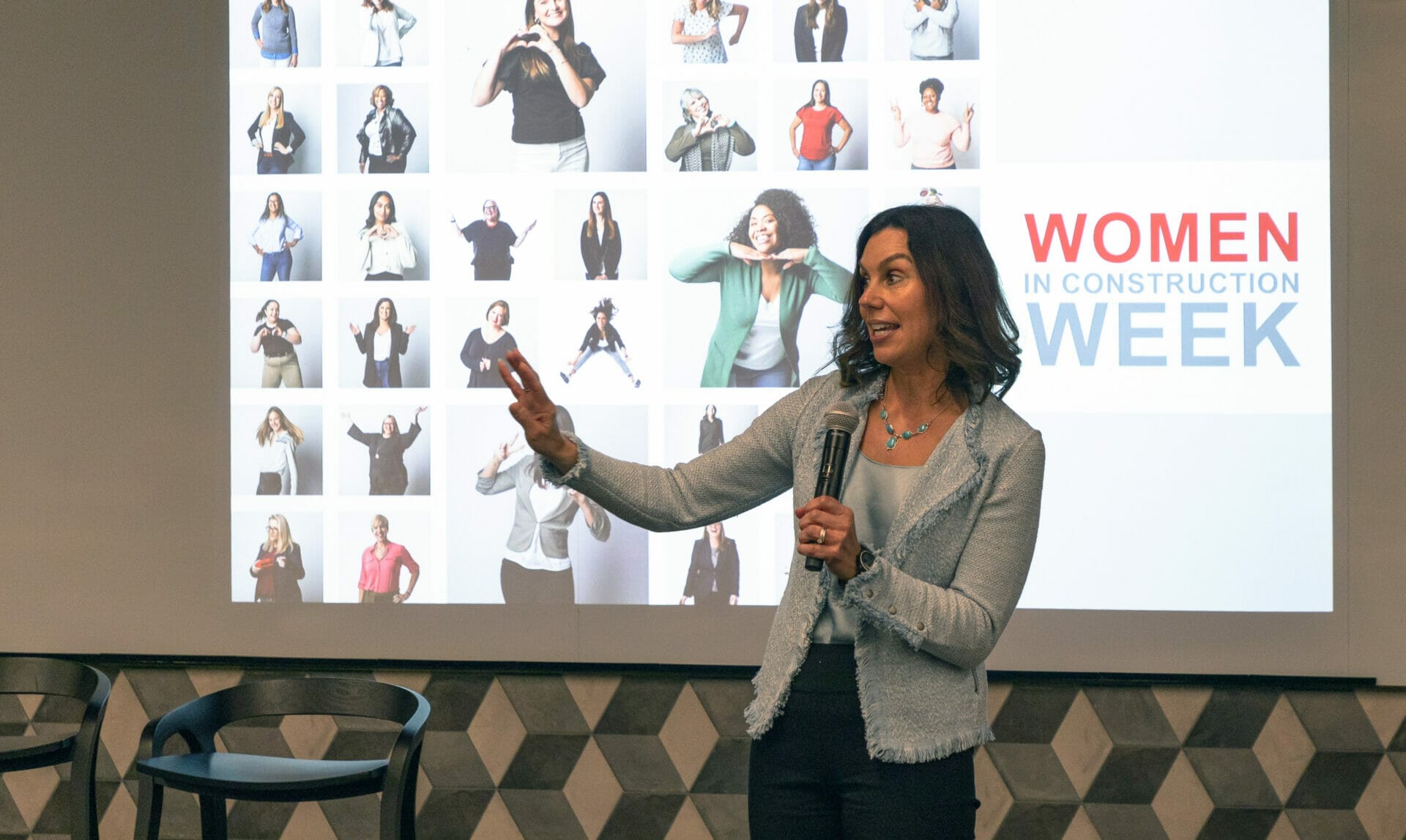 The below article was first published by Bisnow on September 17, 2023.
When Lisa Latronico started as a receptionist at Chicago-based Skender Construction in 2001, she fell in love with its family-oriented, welcoming culture and decided to stick around for a while.
Over two decades later, as the company's newly promoted chief people officer and longest-serving employee, she's the first person to greet every new hire after they pass through reception on Day 1.
Latronico's drive to connect with each new employee is critical for an organization leading the way in workforce diversity and employee engagement. Construction as a whole has historically struggled with diversity, particularly when it comes to women in the field. Per the latest U.S. Bureau of Labor Statistics industry snapshot, women accounted for 1.2 million of those employed in the construction industry, or just 1 in 10 workers.
Skender's workforce tells a different story. Women make up 50% of the company's C-suite and 26% of its leadership team, according to data submitted to the Equal Employment Opportunity Commission and reviewed by Bisnow. In the Skender workforce at large, there are 17% female and 35% minority employees — both above industry averages.
"At Purdue a couple of years ago, there was this talk that females should really apply to Skender because they treat them really well over there," Latronico said. "This came to me through the grapevine, and I thought, 'What a great recruiting tool. Do the right thing for the employees that you have, and word will travel fast.'"
Latronico has been at the forefront of Skender's efforts, and People and Culture Manager Colleen O'Brien said diverse recruitment efforts are baked into the company's DNA. Attracting diverse talent starts with increasing brand recognition in the areas ripe for recruitment, targeting the right job boards and going to a swath of career fairs at different schools, she said.
"We've been very intentional about ensuring that we are bringing on women across the board," O'Brien said. "Lisa has been instrumental in that. We want our recruitment to always be organic because it becomes part of who we are and not a box we have to check or a statistic we have to hit."
The number of women on staff was immediately striking to Project Manager Lily Lawrin. Lawrin, who was hired 11 months ago, said the number of women at the company provides great bonding opportunities and chances to connect with people with similar perspectives.
"It's definitely noticeable," Lawrin said. "It was honestly actually one of the first things I noticed when walking around the office on my interview, and I didn't think it was something that would sway me, but it's a really positive thing … There's so many women. They're everywhere."
The federal government is looking to emulate the success of companies like Skender to bring more women into the construction industry. In August, the federal government awarded a $1.35M grant to the Illinois Department of Labor to aid efforts to train and support the entry of more women into infrastructure and construction careers.
The grant comes as part of the Biden administration's implementation of the $1.2T Bipartisan Infrastructure Bill, expected to create 800,000 new jobs in construction.
"We may still have a long way to go in dismantling decades' worth of barriers, but we're making progress on building that future today," Illinois Gov. JB Pritzker said in August.
In addition to breaking down barriers for women, Latronico has also spearheaded Skender's efforts to partner with nonprofits to place individuals from underrepresented communities into roles across the company, particularly through pre-employment and pre-apprenticeship programs.
The construction industry has historically skewed heavily white, especially in management roles. Black workers constitute 12.6% of the overall U.S. workforce, but just 6.7% of construction workers, per 2023 EEOC figures, and only 5.3% of construction management positions. Hispanics are represented at double their numbers in the overall workforce, making up 34.2% of construction workers, though they are "significantly underrepresented" in higher-paying positions, according to the EEOC.
In hopes of changing that, one of Skender's pre-apprenticeship partnerships is with Genesys Works, a program for youth from underserved communities, providing skills training and career development opportunities. The nonprofit pairs students from certain Chicago Public Schools with Skender. Those students go to school for half the day during the week, then work at the company's office in the afternoon.
Skender has partnered with Genesys Works for several years and even hired a full-time information technology specialist to provide financial aid to help them go to college at the program's conclusion.
"It's been something that doesn't happen overnight," Latronico said. "You have to take some chances. And you have to really understand how to support people who may have no experience in construction, what is that going to look like? So lots of meetings, lots of education, lots of volunteerism, to make sure that everyone is bought into it."
For Latronico, the impact of bringing people into the construction industry who are traditionally underrepresented in the field extends beyond the individuals themselves. These job opportunities can inject wealth into families and introduce communities to people with direct experience in a previously opaque field, she said.
To find groups of people that aren't from a traditional pipeline of ready-made college graduates with construction-related majors, companies have to do a lot of outreach and look at other avenues to find talent, Latronico said. The untapped talent is important to the construction industry overall, she said, not just at Skender.
"I want … every contractor or even any company to be able to look to those nonprofits and help people," Latronico said. "We all have a responsibility to do that. I really truly believe that. And I think it can change lives. I think it can change the trajectory of families."
It's no coincidence that Latronico is passionate about these types of programs — she came from one herself.
In Latronico's senior year of high school, she took the train into the city every day around lunchtime and worked for a human resources department, learning how to write recruitment letters and use a computer — not as second nature in 1988 as it is today.
When presented with the opportunity to partner with Genesys Works and high school students, Latronico jumped at the chance to pay it forward.
"​​If it doesn't work out, that's OK," Latronico said. "It's a leap of faith, we have a super-strong culture, our foundation is strong. We know that we've got strong managers and coaches here at Skender. We're willing to take that chance, we're willing to take those risks. If it betters someone's life, we're going to do it."
Latronico has been a part of large-scale growth as the company's longest-tenured employee. When she joined Skender in 2001, the firm had 15 employees and $20M in gross annual revenue. This year, the company rosters 317 employees and enough projects to bring in $600M in gross annual revenue.
Chief Operating Officer Jerry Ball, who joined Skender about 18 months after Latronico, said her ability to create relationships with fellow employees is unmatched.
"Her overall leadership and relationship skills to pull all of that together has been the one single point of taking our culture from a good culture when I came 20 years ago … but then putting it on steroids and taking it to the next level where I would rival the Googles of the world," Ball said.
It's one thing to tout qualitative company triumphs — Skender boasts quantitative success as well. The company has earned 30 best-place-to-work awards in the last 15 years from three separate organizations, each based on comprehensive workplace evaluations and employee surveys.
Per a Gallup survey of employee engagement, 76% of the company's workforce is "engaged." To put that number into context, the average employee engagement in the U.S. is 32%. Skender's figure is in line with the engagement levels at companies Gallup defines as "best-practice organizations."
High engagement levels lead to better client results and increased revenue, Latronico said. Lower turnover is a result, too: Skender's 2022 turnover rate was at 9.4% compared to a construction industry average of 21.4%, per an oft-cited statistic attributed to the BLS.
Start with engagement, Latronico said, and everything else will fall into place. "I always think about getting people involved in the decision-making process and really letting people have a voice," Latronico said. "If you give employees a platform for doing that … that can go such a long way."
That said, maintaining a high-level culture comes with challenges. In difficult situations like the height of the pandemic in 2020, Latronico stressed the importance of leading with vulnerability. Economic impacts of the pandemic led the company to close a manufacturing facility in California and shutter its San Francisco office.
Business leaders might not have all the solutions in tough circumstances, but they have to be available to answer employees' questions and not shy away from honesty, Latronico said.
"It is not a utopia," Latronico said. "We are not perfect. No one is, and not every day is this place where you walk in and it's all sunshine and roses. Some days are hard and we work in a challenging industry. Try and do your best, try to communicate, reach out to people, show that you care about them and take the time to learn about what's stressing them out or causing any kind of burnout. If you do that, I think that makes a big difference for people."