Association of Medical Facility Professionals Panel Featuring Skender's Jason Utah Digs Into Life Sciences Building Design and Construction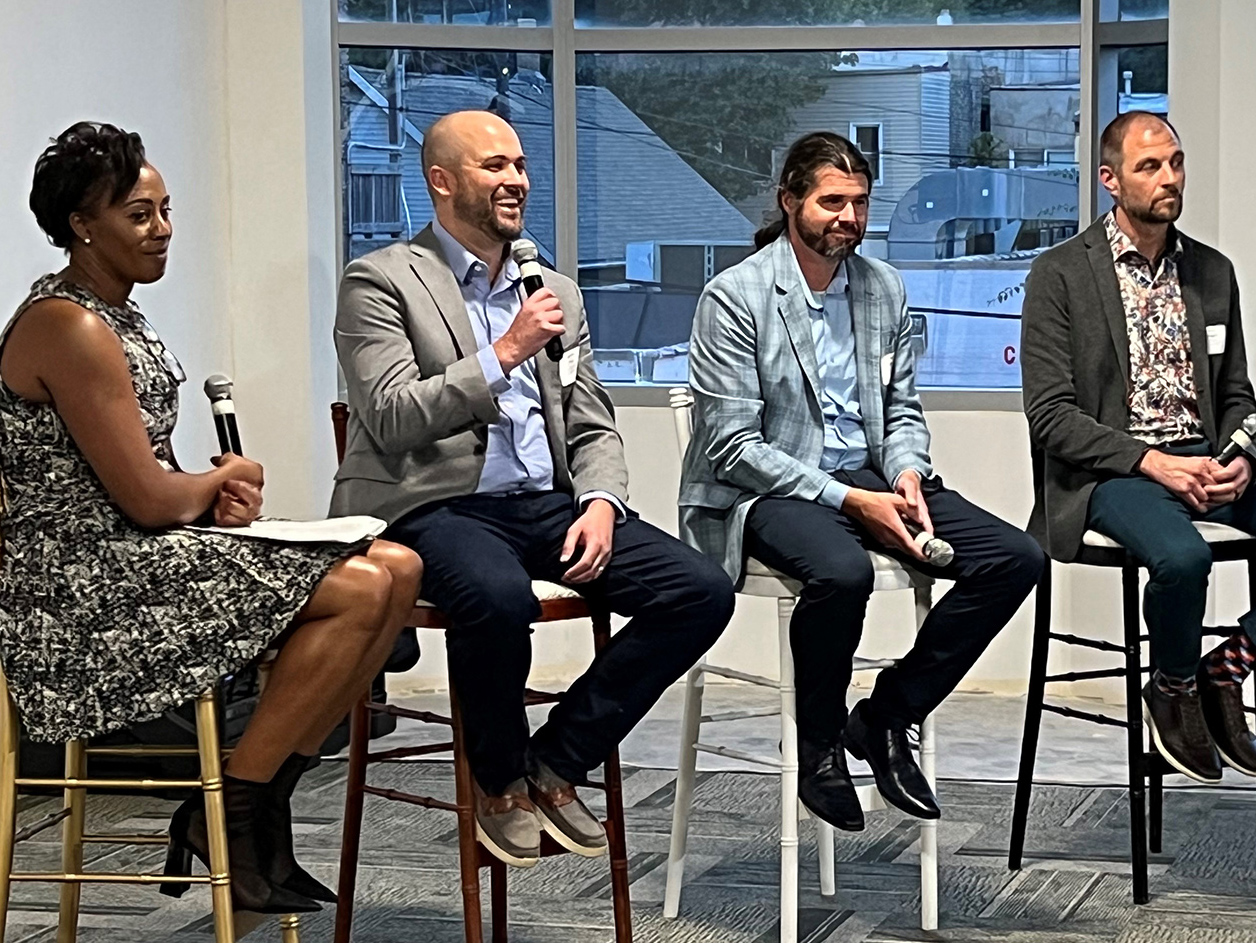 Co-working is no longer just for office workers; shared offices and laboratories have come to the life sciences industry. On October 5, 2022, The Association of Medical Facility Professionals (AMFP) hosted a panel discussion and tour of 2430 N. Halsted, Sterling Bay's redeveloped life sciences building in Lincoln Park. The 5-story building is currently home to biotech companies, such as Evozyne and Exicure, and will be the future home of BioLabs for shared laboratory spaces and other tenants looking for state-of-the-art lab space.
Located in Chicago's Lincoln Park neighborhood, the 125,000-square-foot building was formerly owned by Lurie Children's Hospital and was redeveloped in 2019 to accommodate a variety of life sciences tenants. In collaboration with Sterling Bay, CannonDesign and CBRE, Skender served as construction manager on the build-out of the building's first lab tenants – 28,000 square feet for Exicure (clinical-stage biotech and DNA testing lab and office) and 28,000 square feet for Evozyne (molecular engineering lab and office). Now, Skender is building out the second floor for BioLabs, a co-working space for life science startups that provides young companies with the space to test, develop and grow their game-changing ideas. Once complete, this space will be BioLab's first Midwest location in the country.
The AMFP panel, called Life Sciences: Real Estate, Design & Construction, was held in the BioLabs space and included speakers Jason Utah, Senior Project Manager at Skender; Gary Owens, VP of Operations for BioLabs; Patrick Dempsey, Senior Vice President at CannonDesign and Dr. Suzet McKinney, Principal and Director of Sterling Bay's Life Sciences Division, who served as moderator.
To open the conversation, Dr. McKinney asked the panelists to explain some of the challenges their teams faced with converting 2430 N. Halsted from a single occupancy building into a multi-tenant building. Mr. Dempsey explained that the building had initially been built in two phases – one side in the 1990s, and the other in the early 2000s.
As a result, Mr. Utah said his team at Skender took great pains to ensure a seamless flow was created between the two sides. The north side of the building was quite antiquated, and many updates needed to be made in terms of ventilation and equipment. However, all the panelists agreed that converting a single tenant building that was already being used for life sciences was a much simpler process than converting a traditional office building into lab space.
"This was a ready-to-go, proven building that had been operating as a lab for 30+ years," said Mr. Utah. "It already had the necessary mechanical equipment, a back-of-building elevator for getting materials upstairs, and a storage space for chemicals and gas tanks on the first floor, which is something that not many office buildings have."
One of the biggest conversion challenges was creating brand new common areas—such as a welcoming entryway—reservable huddle and meeting rooms, and a large conference area, which is critical for tenants who are going to be using every square foot of their space for labs.
"Amenities are extremely important when courting young entrepreneurs and startup CEOs," said Mr. Owens. "Especially after two years of a pandemic, you need to find ways to pull people from their homes."
Additionally, Mr. Owens noted that BioLabs tenants – who all go through an intensive vetting process prior to being admitted into the space – are going to be looking to this building to show potential investors and employees that they are a valid company who can afford space in a beautiful, amenity rich building.
Dr. McKinney then asked the panelists for their thoughts on Chicago's emerging life sciences market. They discussed the differences between the life sciences hubs in Cambridge and the West Coast, noting that Chicago is unique in that it has several different hubs throughout the city – in Lincoln Park, Fulton Market, and eventually, Lincoln Yards.
"I like that it's spread out, because it adds diversity to the industry," said Mr. Owens. "Historically, young life sciences entrepreneurs in Chicago had to leave for the coasts in order to get off the ground, but if we invest in life sciences here, we can create the kinds of resources and amenities these young companies need to grow."
The panel wrapped up with an audience Q&A, in which the panelists discussed the challenges of completing the conversion during the pandemic. They also discussed the environmental sustainability of the building – which likely would have been torn down if it wasn't able to be leased as a life sciences space, and the partnerships that will enable BioLabs to provide lab tenants with top-of-the-line equipment.
Post-panel, the crowd was able to take a walking tour of the entire building, including the BioLabs space which is expected to be completed by March 2023.